News
Dressing For Your Body Type
Have you ever wondered why some outfits just don't work for you? You find the perfect fashion inspo on Pinterest only to find that the look is unflattering on yourself. Fashion should make you feel good and look good, but it's hard to accept sometimes that there is no one-size-fits-all approach to fashion. The best starting point is to know the basics. Understanding your body shape is a great way to figure out what will look good on you. Once you are acquainted with your own body from head to toe - then it's smooth sailing from there, and you'll be able to start experimenting with colours, patterns, and shapes.


We've made this handy guide to help you on your journey to figuring out your personal style. We wouldn't necessarily say you should follow these rules to a tee (because frankly, wear whatever you want). However, we do believe that this is a great starting point to know what looks good on you and be able to leverage these tips in order to find your personal style.

5 most common body types


Not all of us fit neatly into a certain "body type", as everyone is unique and we all store fat in different areas. However, if we were to break this mode down in its simplest form - you could categorise our silhouettes into 5 different shapes: Pear, Rectangle, Apple, Inverted Triangle, and Hourglass. You also want to consider if you are petite, regular, or tall height as these factors also come into play when it comes to dressing for your body type.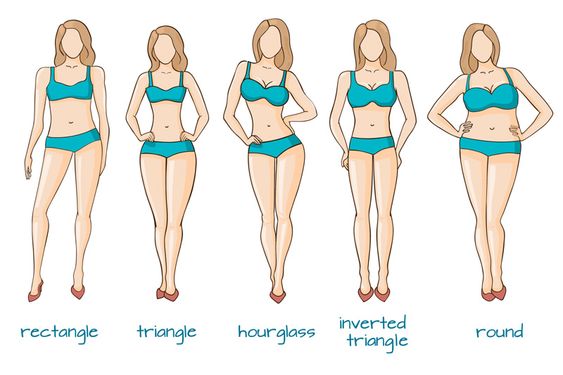 How to determine your body type

There are many different ways that you can determine your body type. A few approaches are as followed:

1. Measure your body - calculate your shoulder, bust, waist and hip measurement to determine what shape you are. We recommend using a cloth tape instead of a metal one. To measure the widest parts of your shoulders, start at the tip of one side and take it around to the other side. To measure the bust, remember to stand straight and to measure the fullest part of your bust. Wrap all away around your body. For the waist, stand straight and measure the smallest part of your waist just above your belly button. Lastly, to measure your hips, you will need to measure the fullest part of your buttocks. Make sure the tape is leveled.

2. Take a look - Have a good understanding of your body by observing yourself in the mirror. Ask yourself where you carry the most weight, and take note of your proportions.  

3. Look around you - Your body shape is largely determined by genetics, so look at your mum or siblings and see what body shape they are. Some people can carry more fat around their body than others due to other medical issues. This is completely normal and again, there is no one-size-fits-all approach to fashion so figure out what's right for you!
Pear Shape Body
The pear shape body is all about the hips. If you think you have a pear body shape, you may have narrower shoulders in comparison to your fuller hips. You may also have an elongated, slim waist and tend to have shorter legs. A pear body shape is also known as a triangle or spoon body shape.


Celebrities such as Beyoncé, Kim Kardashian, Christina Aguilera and Rihanna all have a pear shape body! 


How to dress a pear shape body


With a pear figure, one of your best assets is your slim waist. Make sure to show off your waistline and balance out your lower half. Play with styles that balance out both halves of your body. Consider lines, colours and patterns to draw attention and create curves and length.


When dressing for a pear shape, you might want to play with proportions that elongate the body. Pear shapes look great in tops that draw the eye upward, highlight the shoulders, accentuate the waistline and elongate the legs. If you want to balance out your proportions, look for outfits that draw attention to your upper body and create the illusion of volume. Experiment with your body shape and see what works best for you!


Learn more about dressing for a pear shape body here.
Rectangle Body Shape
A rectangle body, also known as a straight body shape, is pretty self explanatory. Your hips and bust tend to have a similar width as the shoulders, and you may have a small bust and buttocks. There isn't too much definition to your silhouette, but it gives you the opportunity to play with shapely and voluminous garments to add dimension.
Celebrities such as Kate Hudson, Cameron Diaz, Kate Moss, Gwyneth Paltrow and Natalie Portman all have a rectangle figure! 


How to dress a rectangle shape body


When it comes to clothes for a straight body type, focus on garments that create shape through the silhouette. Because a rectangle body shape genuinely has an even shoulder, bust and hip ratio, most people focus on creating a waist to give the illusion of an hourglass figure. This could be through ties, belts, ruching or gathering to create that 'cinched' look. You can also use colours, patterns and lines to draw the eye on where you want it to go. Opposingly, you can also play around with adding volume through puffs, flares and colour on the upper and lower parts of your body. When dressing for a straight body shape, it is recommended to keep away from shapeless silhouettes and oversized fits in order to not feel too overwhelmed underneath all the fabric.


Learn more about dressing for a rectangle shape body here.
Apple Body Shape
The apple body shape, also known as the round or oval body shape, is characterised by a large bust, narrow hips and a fuller waist. Your legs may be slender as well. You may also fall into another body shape such as the pear if your hips are slightly broader, or an inverted triangle if your shoulders are stronger. 


Celebrities such as Drew Barrymore, Adele, Kate Winslet, Melissa McCarthy and Mindy Kaling all have an apple body shape! 

How to dress an apple shape body


If your goal is to take the attention away from your midsection, we would recommend silhouettes that create the illusion of a longer torso such as v-neck or sweetheart necklines. You can also have a play with accessories to draw attention to other areas such as the face. Apple shape bodies also have amazing legs and they should definitely be shown! We recommend something A-line to balance out the bottom half of your body. Think A-line skirts and wide leg pants. If you want something more figure hugging in the waist, pair your outfit with a belt for some balance. Keep colour to the lower parts of your body. We love the look of flared or cuff sleeves on an apple shape body as it creates so much shape! We also love the way a waterfall cardi looks on an apple shape.
Hourglass Body Shape
The important thing to note about dressing for your body type is that the hourglass shape is categorised as the most balanced of all the shapes, with a proportional shoulder to hip ratio. You may have slightly round shoulders and bigger thighs, however weight gain is typically distributed evenly on your body. Most blogs on dressing for your body type note that the hourglass body shape can wear pretty much anything - and they can. But so can every other shape. The point of noting if you are an hourglass figure is to recognise that the top and bottom half of your body is similar, and you have a defined waistline.


Celebrities such as Scarlett Johansson, Sophia Vergara, Salma Hayek, Beyoncé and Christina Hendricks all have an hourglass figure! 


How to dress an hourglass body shape


Dressing for an hourglass is all about following the natural silhouette of the body. If you are an hourglass figure and want to show off your curves, then flaunt it! Wrap dresses and belted designs look fantastic on an hourglass shaped figure. It's all about the waist here. It is noted to avoid shapeless clothing if a defined waist is your goal. It is also encouraged not to make your silhouette look imbalanced by adding more volume to your lower or upper body. Balance it out through shapely designs. Opt for an oval neckline. We also love sleeveless or fitted sleeves on an hourglass shaped body. A Peplum style also looks fantastic. Again, it's all about what styles make you feel the most comfortable.
Inverted Triangle Body Shape
If you are an inverted triangle shape, your silhouette can be defined by an athletic build with broad shoulders in comparison to your hips. Your waist may also be wider than your hips and you may also have a bigger bust. A lot of people would call the inverted triangle body shape quite a sporty and athletic physique especially if the person with an inverted body shape had a lot of definition in their shoulders and arms.


Celebrities such as Angelina Jolie, Renee Zellweger, Catherine Zeta-Jones and Demi more all have an inverted triangle body shape.


How to dress an inverted triangle body shape


If your goal is to balance out proportions on your body, then make sure you're adding definition to your hips. Think of straight-leg pants, culottes and flared pants. For the top half of your body, you want to soften the shoulder line with soft and drapey fabrics (such as bamboo!). Choose necklines that are deep, narrow or asymmetric that can help break up the chest and elongate your silhouette. We love a raglan style on an inverted triangle shape as well as anything with wide straps. Avoid cropped silhouettes and focus on straight lines - especially tops that extend past the hips (think tunic style tops).
How to dress for a petite body size
If you are a petite body shape you are probably looking for silhouettes that will elongate your body. You are recognised as petite usually if you are below 5' 4". You may have shorter limbs and struggle to find pants with an inseam length that suits you. It is also a good idea to scroll up and learn about your body shape. First know if you're a pear, rectangle, hourglass or inverted triangle. This will help guide your outfit choices. Don't forget about the rule of thirds in order to feel more balanced. It is also important to avoid boxiness which will make you look wider rather than taller. If the goal is to elongate your body, try opting for vertical stripes or prints. Look for clothing that fits well and doesn't swallow you up.
 
Learn more about dressing for a petite body type here.
How to dress for a tall body
The term tall is subjective and the average height for women varies depending on where they are from, but generally, you would be considered tall if you are around or over 175cm. If you are tall, the standard garment may fall short at the ankles, or perhaps your 'high-waisted' pants may fall to mid-rise. Again, like dressing for a petite body size, first know what body shape you are.


To dress for a tall body size, it is important to balance proportions to break up the visual line. Find a waistline that suits you depending on the length of your torso and legs. This may be high waisted to some, or rather low waited if you want to elongate your torso. Patterns and colour blocking also do wonders when it comes to balancing proportions. Breaking up your look into sections is great if you wish to look shorter. However, if you want to elongate your body and exaggerate your height we recommend exploring high-cut necklines and streamline silhouettes. 


Your leg length and arm length is also very important to know when shopping for clothes. ¾ sleeves may look shorter if you have long arms. Perhaps you prefer to avoid culottes as they rise too high on your legs. Finding outfits for tall women cannot be molded into one singular guideline as we all come in different shapes and sizes.

Learn more about dressing a taller figure here.


It is important to remember that dressing for your body type is all about feeling confident and comfortable in your skin. All brands, including Bamboo Body, design clothing for all different body types, and it's up to you to find the pieces that make you feel good and that you believe flatter your body. All body shapes are unique and there is no one-size-fits-all approach to fashion. We hope that you have found this blog helpful in your journey to discovery your own personal style, and that you can use this guide as a starting point to find what clothing pieces are right for you.