News
Fashion Tips for Curvy and Plus Size Women
As a plus size woman, finding stylish clothing can sometimes feel like a challenge. Finding clothes that fit well, are comfortable, and make you feel confident and beautiful is not easy in an industry that chooses not to cater to plus sizing. But the good news is that Bamboo Body sees and hears you. With a large range of styling from XXS to 4XL, there is something for everybody. With an inclusive range of clothing in styles designed to fit and flatter as well as with the right tips and tricks, you can easily create a wardrobe that is both stylish and flattering.


Enough advice has come and gone where you are told to opt for darker shades and to avoid patterns - this is not what we're here for today. Here are 6 pieces of styling tips for curvy and plus size women that will help you feel comfortable, confident and fabulous!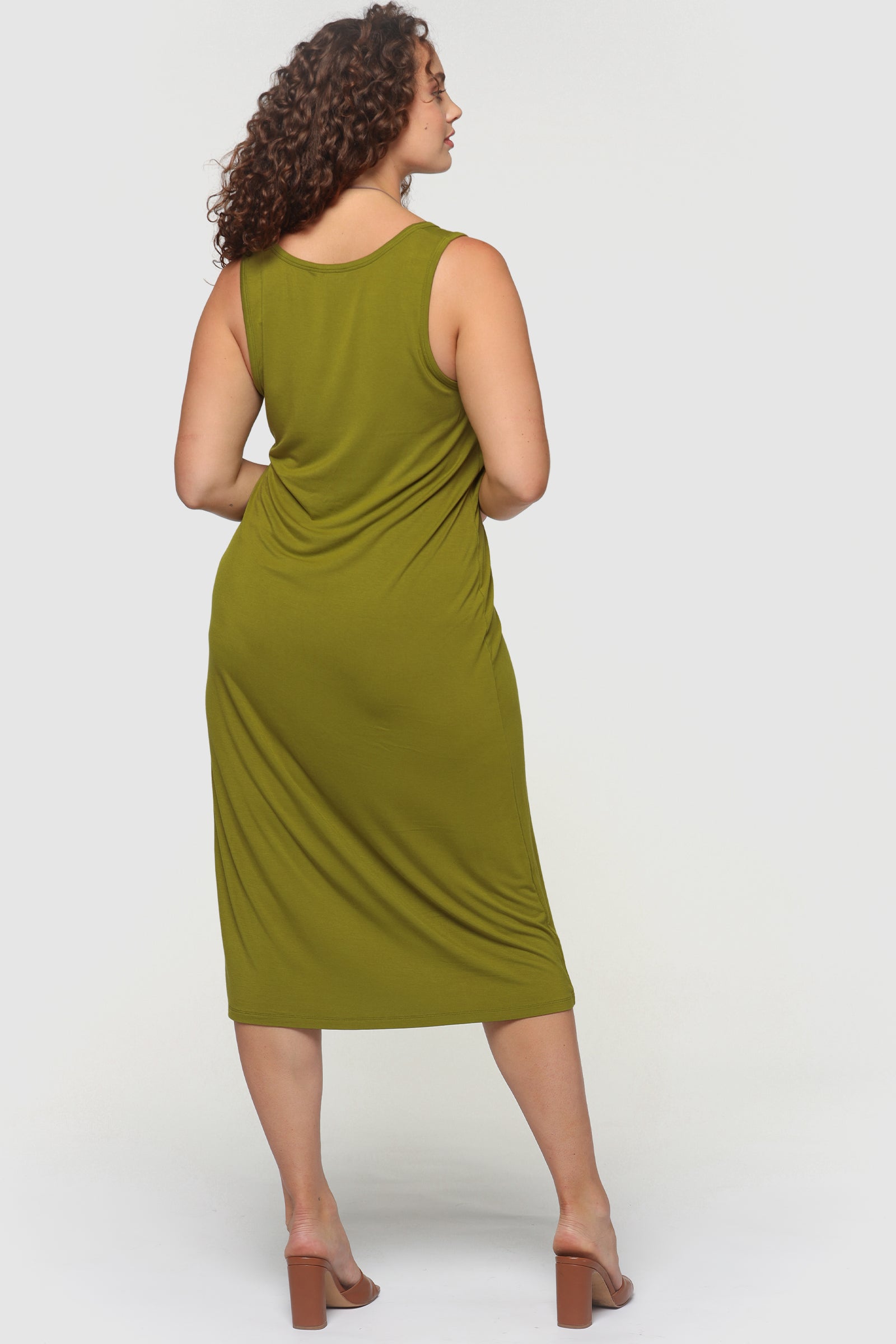 Plus Size and Curve Styling Tips
1. Choose pieces that make you feel confident and beautiful
2. Don't stress on the label - find clothes that fit
3. Focus on fabrics
4. Ruching and shirring are your best friend
5. Accessorise
6. Dress for YOU
1. Choose pieces that make you feel confident and beautiful.
One of the most important things to remember when it comes to styling for plus size women is that there is no one size fits all approach. Firstly, you should never feel like you have to conform to a certain body type or size in order to be considered stylish. Instead, embrace your unique body and choose clothes that make you feel comfortable and confident. 


When it comes to shopping, find pieces that spark your personal interest. What colours do you look good in? What in your current wardrobe do you feel most comfortable in? Finding your core staple pieces that you always gravitate towards is the perfect starting point to finding your style. Many plus size women feel like they have to stick to dark, neutral colors in order to look slim, but this isn't the case. In fact, choosing clothing in bold, vibrant colors can actually be very flattering and can help you stand out in a crowd. Additionally, patterns and prints can be used to create visual interest and add dimension to your outfit.


Additionally, are there any current trends that catch your eye? Although we are not a believer in following trends, we do however look towards them for inspiration.  Look at the garment's fabric, style and colour. Ask yourself, how can you integrate this into your current wardrobe. How many outfits will you be able to make with this garment? If you don't see yourself wearing this trend more than once, then maybe it's not the right purchase. If a trend genuinely suits you, your personal style and your lifestyle - you'll love the piece forever, even when the trend dies. 


Choose clothing that makes you feel good about yourself, and that boosts your confidence and self-esteem. Wear what makes you happy, and don't let anyone tell you what you should or shouldn't wear based on your size, height or age. You are allowed to wear whatever you want, as long as it makes you feel good, look good and ultimately do good. 
2. Don't stress on the size label - find clothes that fit
Another tip for styling for plus size women is to choose clothing that fits well. This may seem like a no-brainer, but it's important to remember that clothing that is too tight or too loose can make you look and feel uncomfortable. Clothes are meant to fit you, not the other way around! Instead, choose clothes that fit comfortably and provide enough room for movement. This will help you feel more confident and comfortable, and can make a big difference in how you look and feel.


Knowing your body is the best way to get started on your styling journey. Know if you are a pear, apple or rectangle. This doesn't mean you have to be restrictive in your styling, but it is a good starting point to understand your body and know what will fit and flatter. 
3. Focus on fabrics
In addition to choosing clothing that fits well, it's also important to pay attention to the fabrics that you choose. Natural, breathable fabrics like bamboo, cotton, linen, and silk are more comfortable and flattering than synthetic materials. These fabrics can help keep you cool and comfortable, and can also sit better on your body.


Many plus size women opt for stretch fabrics as this fabric will allow the garment to flow and flatter based on the natural curve of your body. Stretch fabrics are also super comfy to wear and there is no need to go up an extra size as there is enough wiggle room. We know this for a fact - that is why we add a little bit of spandex to all our garments for that extra stretch!


Bamboo Body clothing is made with organically grown bamboo. Our bamboo crop is grown without the use of pesticides, fertilisers or chemicals. No irrigation is required and there is no genetic modification. Our bamboo fibre is OEKO-Tex100 certified which means there is no trace of harmful chemicals in the end product! 


Bamboo fabric is breathable, extremely lightweight and luxuriously hot. It's thermo-regulating and moisture wicking properties keep you cool in the summer and warm in the winter. It is also perfect for those with skin sensitivities.


Learn more about the benefits of bamboo clothing here.
4. Ruching and shirring are your best friend
Another piece of advice for styling plus size and curving women is focusing on the cut of the clothing. This tip is particularly for those who want to hide certain areas of their body that they are self-conscious about. This is completely okay!


For example, if you're self-conscious about your midsection, try wearing a high-waisted skirt or pants to create a flattering silhouette. If you're not sure what styles will work best for your body type, don't be afraid to ask for help from a friend, or reference out styling for your body type blog here.


Ruching is a gathering of fabric on a garment that gives a detail of interest through its ripple effect.This intricate detail adds a hint of extravagance and adds texture and shape to your clothing. It's a perfect addition to your wardrobe if you are not a fan of prints but you still want to jazz up your basic solid-coloured pieces.


The best part about ruching is that it hugs your curves in all the right places and slims down the figure by accentuating the narrowest part of your waist. Same with shirring, which uses elastic thread to gather the fabric and create an interesting texture.


Check out our favourite ruched styles here.
5. Accessorise
If you're looking for an easy way to update a look, or perhaps to draw attention to/from a certain area is to prioritise accessories. The right accessories can help draw attention to your best features and create a more cohesive and stylish look. For example, if you have a beautiful neckline, try wearing a statement necklace to draw attention to it. Or, if you want to draw attention to your curves, try wearing a belt to cinch in your waist and create a more hourglass silhouette.


Accessorising is part of the cheat sheet to styling. Think about the staple accessories that are a must have in your wardrobe. Think the classic boot, heel and sandal. If you want to slowly inject colour into your wardrobe, why not try with a statement bag or shoe? When it comes to jewelery, do you prefer gold or silver? Understanding your personal style will help you on your trans seasonal fashion journey.


Learn about what jewellery will suit your undertone here.
6. Dress for YOU
The most important piece of advice we have for styling plus size and curvy women is to dress for YOU and no one else! Fashion is about expressing yourself and feeling good, not about conforming to societal norms or expectations. Remember that fashion can and should be fun, and allows for experimentation and self-expression, so don't be afraid to try new things and see what works for you!
Styling for plus size women is all about embracing your unique body and finding clothing that makes you feel comfortable and confident. With the right mindset and positivity, you can easily create a wardrobe that is stylish, flattering and suitable to your personal style. Remember to experiment with different styles and cuts of clothing and prioritise clothing that fits well. Size is just a number. Pay attention to the fabrics and materials used in your clothes, accessorize to draw attention to your best features, and don't be afraid to try bold colors and patterns. With these tips, you can easily create a wardrobe that makes you look and feel your best.


Do not hesitate to reach out to the Bamboo Body team for any advice on styles, colours and sizing. Contact us here.