News
Styling For You: Petite
This week we're looking at creating the right looks for petite women and how we can help you dress so your proportions look balanced. These guidelines, which are now updated for this Autumn / Winter season, will work for anyone who is petite or for those who want to appear taller or learner in their appearance. We understand petite shapes come in all different shapes and sizes, so we've made sure these tips are universally flattering. 
With the help of professional stylist and body shape expert, Angela Barbagallo, we dress one of our most loyal Bamboo Body customers, Kim, so you can get a gauge of how our new AW21 styles look on a petite figures. Kim is a pettie pear body shape. She is 156cm (5"1") and usually wears a size small/10 in tops and L/14 in pants and skirts.
3 Tips On Dressing For Petite

1. Elongate; appear taller, longer and leaner. Certain styles will help you lengthen your look and make you appear taller. 
2. Know your shape and use the rule of thirds - First know if you're a pear, rectangle, hourglass or inverted triangle. This will help guide your outfit choices. Then, educate yourself on the rule of thirds. If the proportion of your outfit is off, you may look unbalanced and a little frumpy.
3. Avoid boxiness - this can make you look wider rather than taller.
--
Jackets for Petite Women

Look for styles that don't overwhelm your petite frame. Jackets that finish at the hip or just below won't consume you and will balance out proportions.
Creating vertical lines will also make you appear taller. You don't necessarily need to feature vertical lines such as a print or stripe to have vertical lines in your outfit. You can also create vertical lines with open straight jackets and cardi's.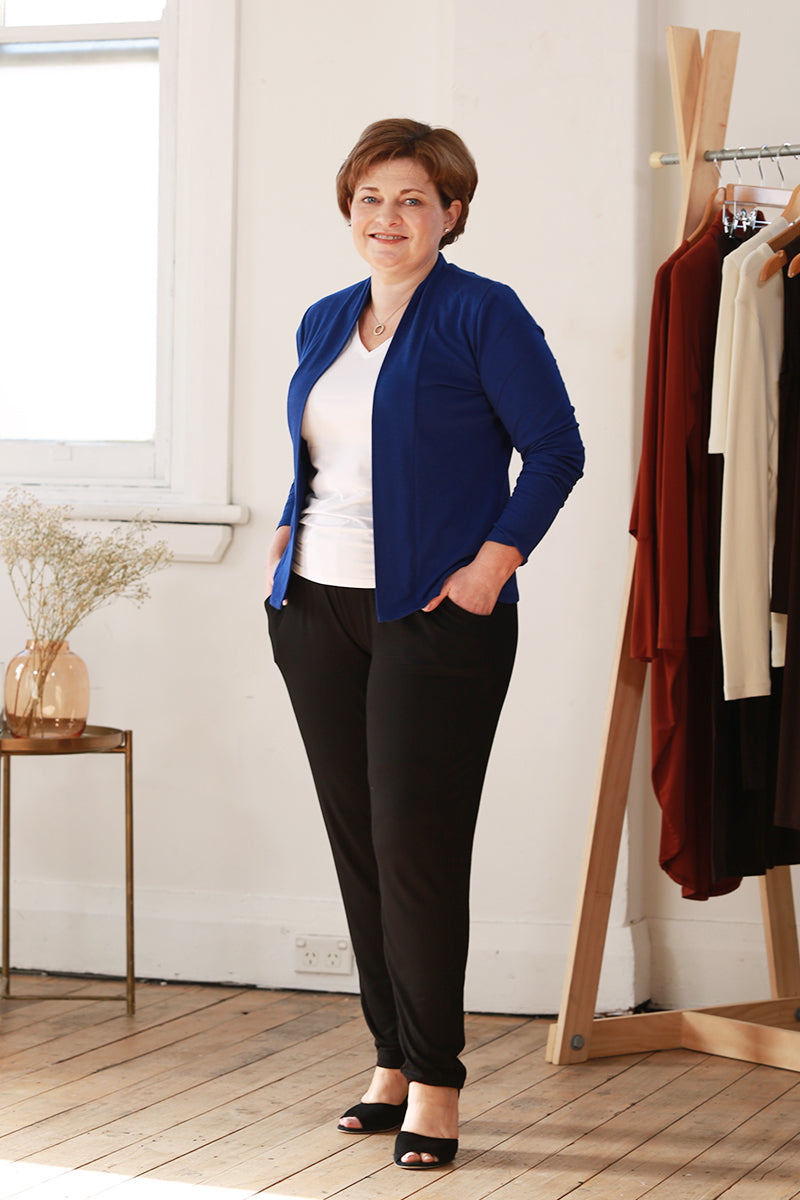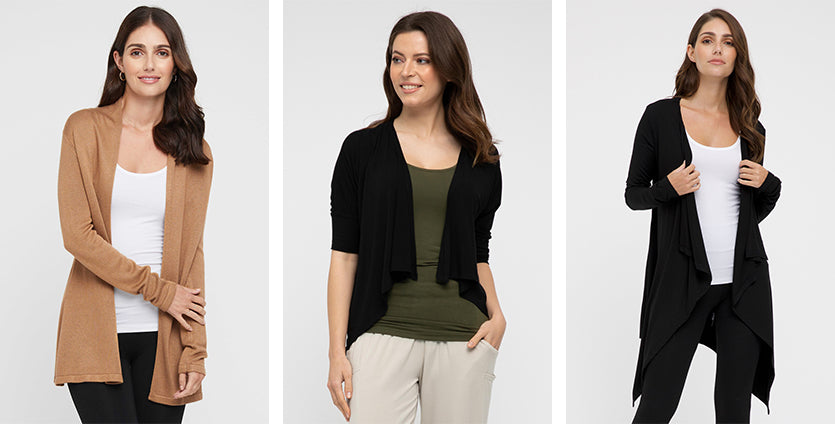 Shop more petite jackets below.

Duster Jacket
Drape Cardigan
Waterfall Cardigan
-
Bottoms for Petite Women

Opt for high waisted bottoms; this is a no-brainer and will make your bottom half look longer in length. Pair your high waisted pants or skirts with heels to create a long, vertical image. Worn with a top shorter in length will also create the illusion of height. Wide or straight leg pants tucked into your favourite top work really well. If you don't like tucking, try an asymmetrical top.
If you have trouble shopping for pants that are the right length for you, our best-selling Essential Pants and Luxe Pants now come in 3 different lengths; petite, regular and tall. Our Peggy Pant are also a great option for petite women as they're designed to sit on the ankle.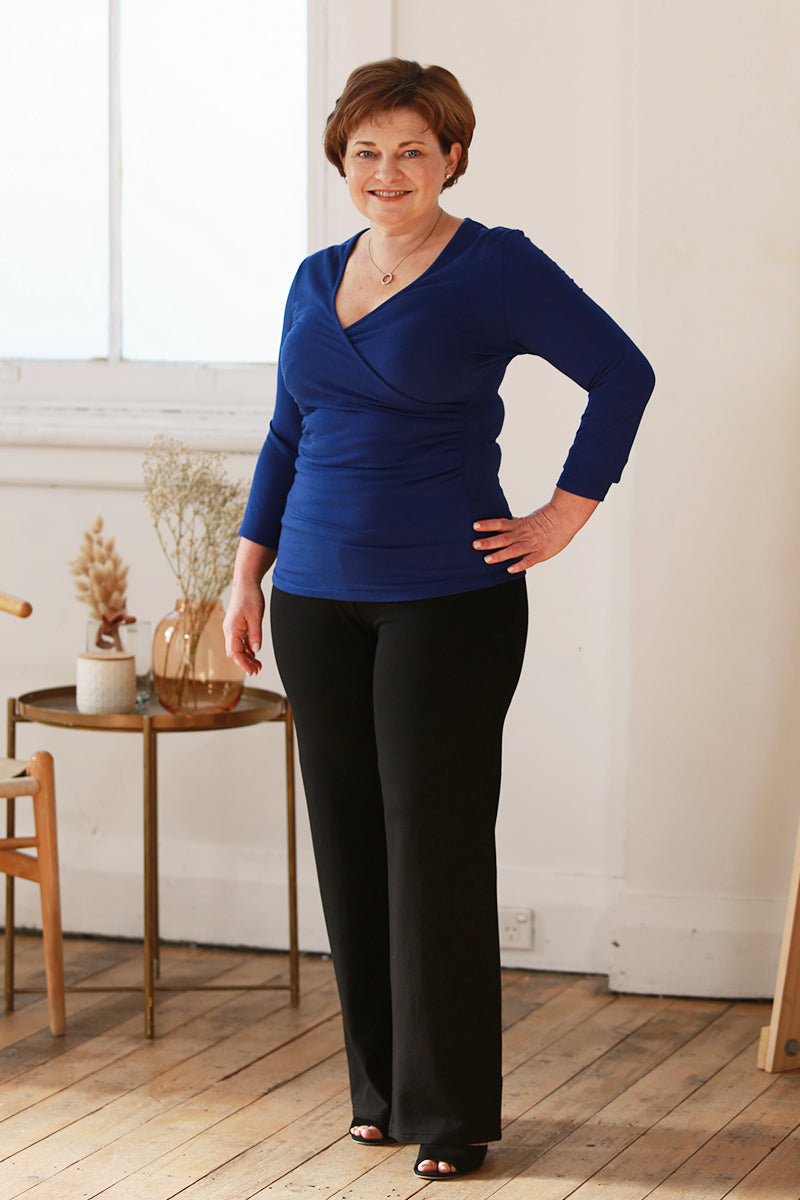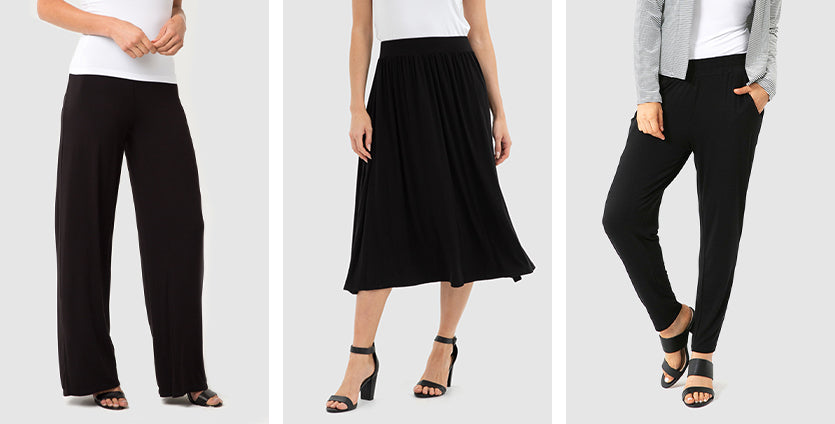 Shop more petite bottoms below.

Luxe Pant
Midi Skirt
Peggy Pant
-
Tops for Petite Women

Wear scoop or V shaped necklines to elongate the top half of your body. These necklines, and showing some skin, open up the neckline and creates additional vertical lines. The length of your tops also plays an important role; make sure that your tops stop at the hipline or just above. Longer tops may cut you in half and will make your legs appear even shorter. However, you can wear a tunic over leggings or skinny jeans!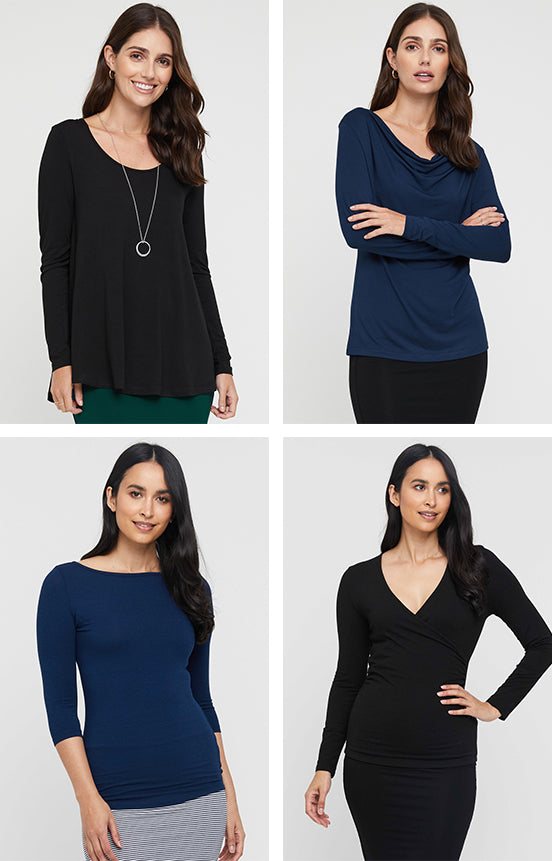 Shop petite tops below.

Paige Top
LS Cowl Neck
Ada Boatneck Top
Cross Front Top
-
Dresses for Petite Women

Dresses always look great on petite women, as they automatically create the much-desired 2/3 - 1/3 look. Try and opt for a form-fitting silhouette as it'll make you appear taller. 

Shift dresses look great on petite women. Add in a belt to cinch in the waist and create shape for those dresses that have a little more fabric than preferred, so the dress doesn't consume you. Opt for knee length dresses or skirts to avoid this too! Our ruched dresses and skirts are great if you are petite as the length can be adjusted by simply ruching the skirt or pulling the comfortable waistband up higher or down lower.