News
Styling for You: Clothes for Rectangle Body Shape
How To Dress A Rectangle Body Shape / Straight Body Shape
Finding the right pieces for your body type can be tricky. Choosing the right clothes for rectangle body shape, or similarly known as an athletic, straight body type, is all about playing with silhouettes to create more shape. The straight body shape typically is characterised by equal bust, waist and hip measurements. To find the perfect clothes for a straight body type, the key is to find pieces that create definition and curve. We understand that the straight body shape comes in all different builds, so we've made sure these style tips are universally flattering, as is the entire Bamboo Body range. However, rather than concealing parts of yourself, we want you to embrace your rectangle body shape and celebrate your body through your style. We hope that you can use this blog as a general guideline to enhance your personal style and accentuate your best features! 
With the help of professional stylist, body shape and colour expert, Angela Barbagallo, we dress busy Grandmother, Sue, in elegant clothes for the rectangle body shape. Sue is 163cm tall (5'4") and usually wears a size small/10 in tops, pants and skirts.
Bamboo Body loves the rectangle figure as it can suit a variety of clothing. Continue reading to learn all about how to dress a straight body shape below!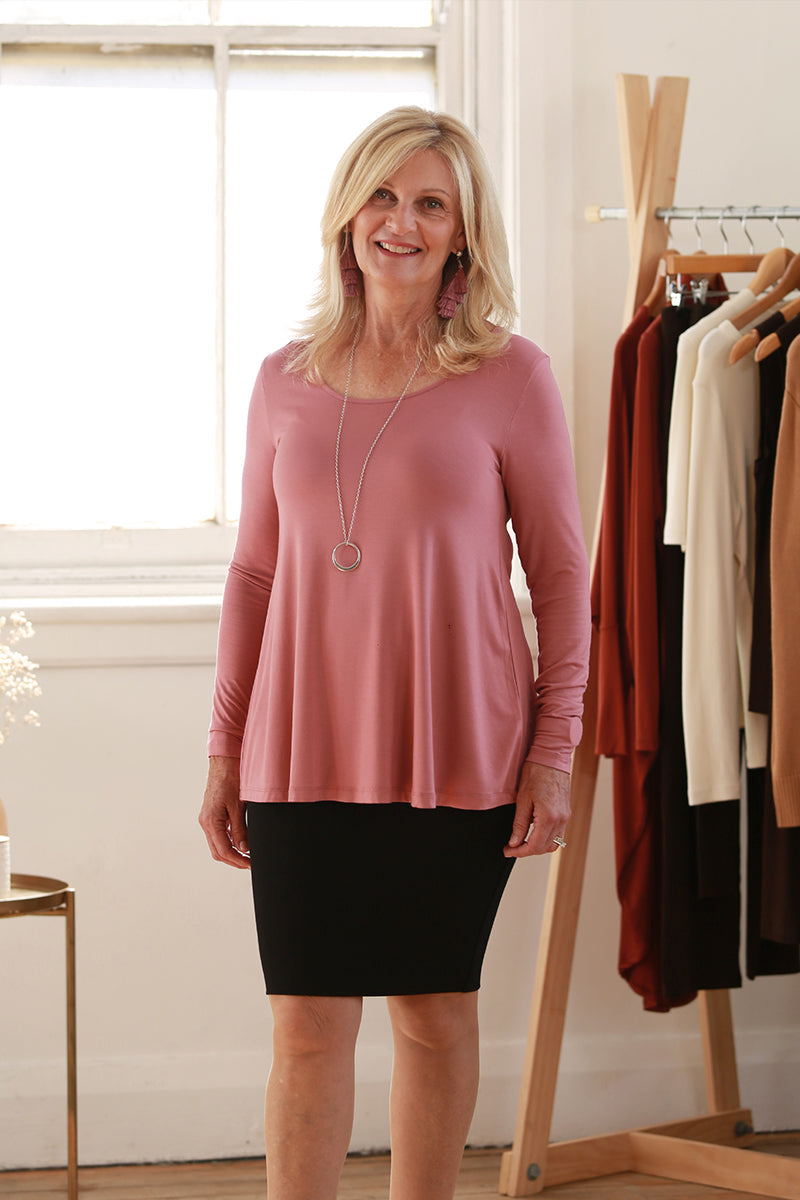 What is a Straight Body Shape?
Although the idea of choosing outfits based on your body type is outdated and often used to conceal parts of your body, we want to take this opportunity to celebrate those parts of your body and help you choose pieces that make you feel confident, no matter what shape or size you are. Dressing for a straight body type does not mean you have to restrict! Implement the tips that speak to you the most and integrate it into your personal style.
If the below applies to you, then you may have a straight/rectangle body shape.
Your waist is more straight than curvy
The hips and bust measurements tend to have a similar width as the shoulders
You may have a small bust and buttocks.
Celebrities such as Kate Hudson, Cameron Diaz, Kate Moss, Gwyneth Paltrow and Natalie Portman all have a rectangle figure! 
How To Dress A Straight Body Shape
When it comes to clothes for a straight body type, focus on garments that create shape through the silhouette. Because a rectangle body shape genuinely has an even shoulder, bust and hip ratio, most people focus on creating a waist to give the illusion of an hourglass figure. This could be through ties, belts, ruching or gathering to create that 'cinched' look. You can also use colours, patterns and lines to draw the eye on where you want it to go. Opposingly, you can also play around with adding volume through puffs, flares and colour on the upper and lower parts of your body. When dressing for a straight body shape, it is recommended to keep away from shapeless silhouettes and oversized fits in order to not feel too overwhelmed underneath all the fabric.
Building Your Wardrobe For A Straight Body Type
If you have recently figured out that you were a rectangular body shape and don't know what clothes to buy, don't panic! Luckily, Bamboo Body has a range of clothes for women with a straight figure, and we'll give you easy tips and tricks on how to dress a straight body shape below.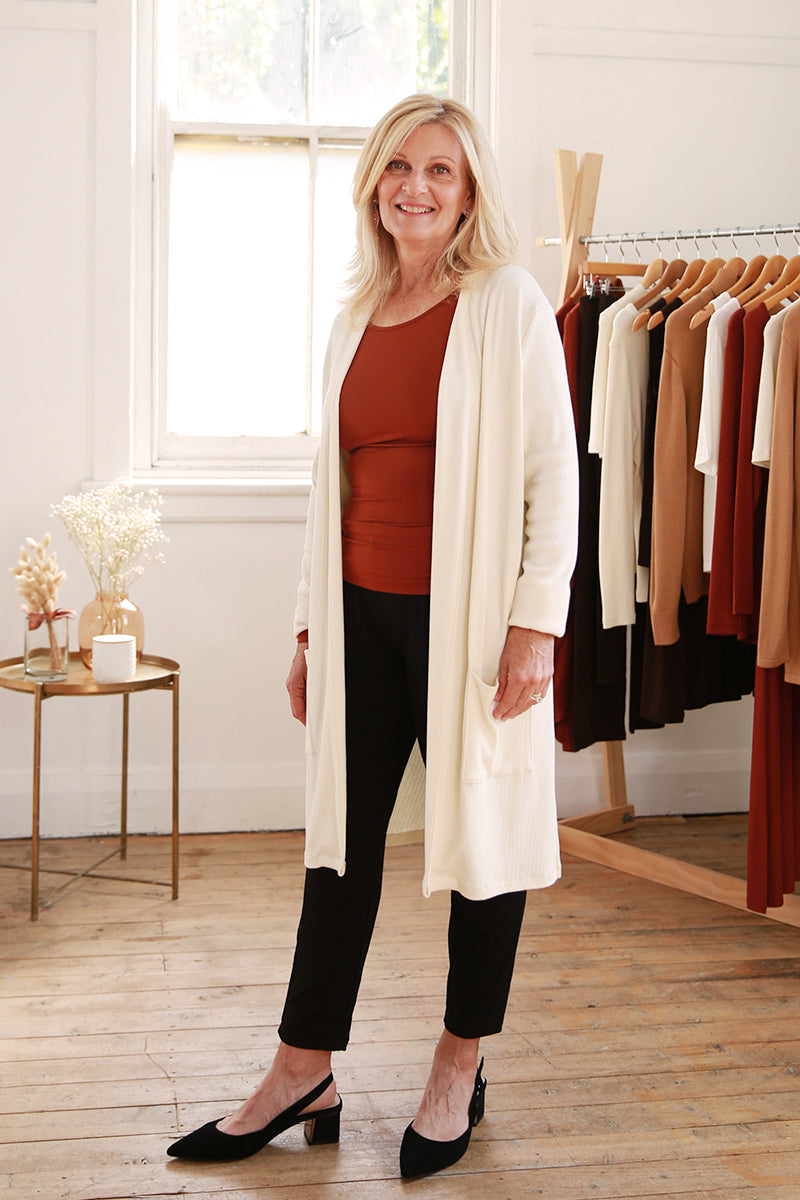 Dresses for A Straight Body Type
While most dresses look absolutely amazing on a straight body shape, it all depends on if you are opting for that high waist definition. Fit and flare and A-Line dresses help define a waist for your midsection while ruched dresses instantly create an hourglass shape. We recently wrote a blog all about our favourite ruched styles here. We love an A-line shaped skirt on a straight body shape for this reason - such as the Harmony Dress or Olivia Dress. You can also play around with flowy dresses and adding a belt to help cinch in your waist. We personally love the Long Sleeve Wrap Dress as the v-neck shape visually lengthens the shoulder and bust area while the waist tie will cinch you in. Have fun with asymmetry and play around with cute shoulder details that make a statement.
If you are dressing for a straight body shape, it is recommended to avoid shapeless and trapeze styles dresses as it can widen the appearance of your frame and not give you any shape at all. Although streamlined silhouettes are not ideal for a straight body shape, a shift dress does it nicely on a rectangle shape without feeling too baggy. The Adele Dress is perfect for this, giving that ultimate 60s vibe. Play with shape by adding a belt or cardi that stops at the waist. 
Shop dresses for a straight body shape below.
Dresses For A Straight Body Shape
Tops for A Straight Body Shape
When it comes to choosing the right top for the straight body type, it's all in the neckline. Open necklines are a great way to bring focus to the top half of your body. We love a V-neck, cowl, bateau and crew neck tops on straight body types as they bring focus to the top half of your body and create shape. It all depends on what you want to emphasise, whether that is to create curves or to elongate your shape. V-neck silhouettes and turtle or mock necks achieve length by creating a long vertical line. Rounded necklines like a crew, bateau or scoop neck add more shape to your body. Angela suggests trying a smaller size rather than your regular size when choosing tops for a straight body type. This will make the top skim over your upper body creating instant shape.
Read all about finding the perfect t-shirt for you here.
When shopping for clothes for straight body type, your main aim may be to create definition in your waist and this can easily be achieved by the top of your choosing. Creating structure, shape and volume within your upper body is a great way to create shape closing in at your waist. Accessorise with belts or look for tops that have a natural give around the waist.
When it comes to sleeves for a straight body figure, choose something that is not fitted, but rather adds volume and shape to your silhouette. ¾ Sleeves and mid bicep sleeves work wonders on a straight body type as well.
Shop tops for the straight body type below
Tops For A Straight Body Shape
Jackets for Straight Body Type
For a straight body shape, jackets play a big part in adding dimensions to your frame and slimming you down. Jackets that are nipped in at the waist will enhance your waistline. You can also wear longline jackets or jackets that finish below the hip to accentuate length in your torso. To create a waistline with a longline jacket or cardigan, simply add a chunky belt! Avoid cropped jackets or anything that has a straight hemline (longline cardis are okay!) as these do not create shape for you. For a straight body shape, choose a jacket that is a few inches above or below your hipline. We also recommended anything that isn't considered 'boxy'. This is why we love our cardis on rectangle body shapes as they fall at the perfect length and are versatile enough to look styled cinched at the waist with a belt or left on their own. 
Jackets For Rectangle Body Shape
Pants for A Straight Body Shape
Finding pants for straight body types is easy as you can wear almost any type of pant. Slim, straight, bootleg and wide leg pants work really well for you. You can wear tighter styles to show off the curves you do have or you can choose a looser style. Just remember, to keep proportions in mind to create shapes where you want them. For the straight body shape, wide leg pants create curves while straight leg pants will add a modern touch to any look. We love anything with a cuffed hem like the summer clutch pants or bamboo trackpants. Otherwise, the luxe wide leg pants are an official favourite for straight type bodies here at Bamboo Body! For a rectangular/straight body type, we recommend to avoid a straight leg trouser or baggy pant as they tend to shorten your frame. However, balancing these pieces out with a longline cardi or dimensional top will do the trick!
Shop more bottoms for straight body types below.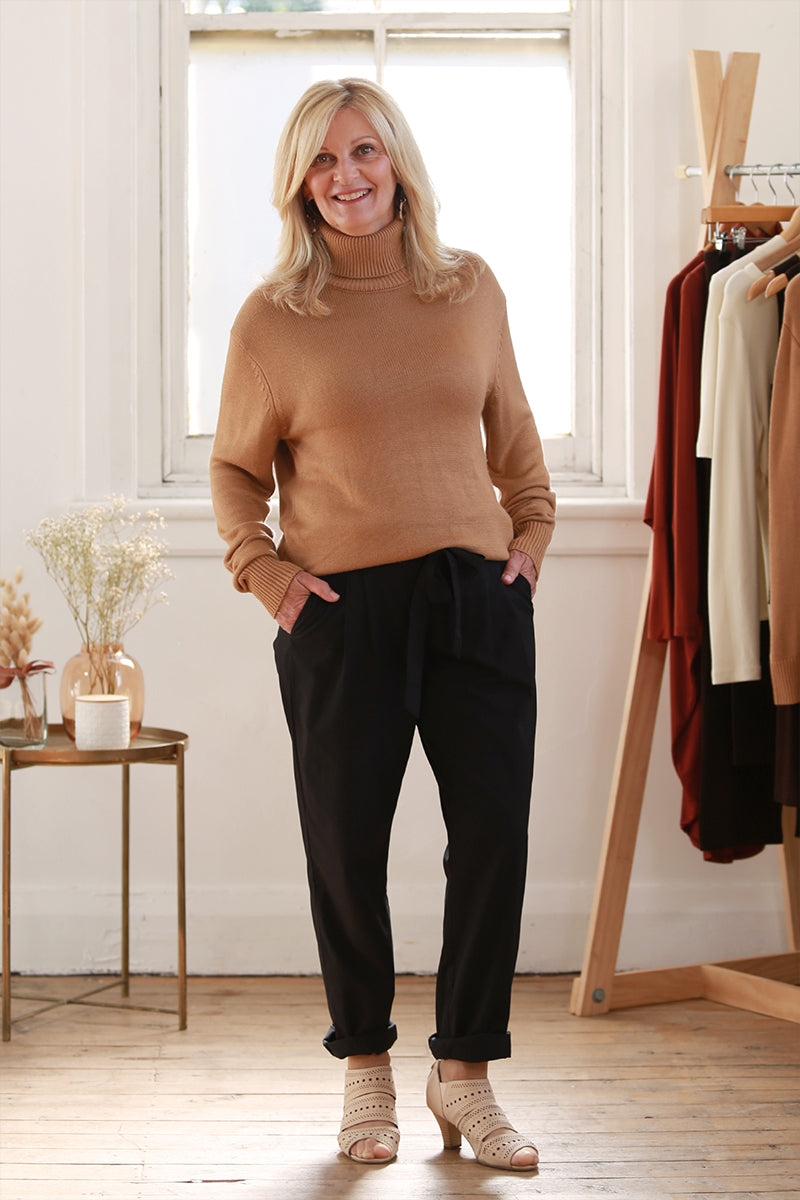 Pants For A Straight Body Shape
Skirts for The Straight Body Shape
As for skirts for the straight body type, these have the same rules as dresses. A-line cuts and pencil skirts work wonders. We love a midi skirt for a straight body shape that has pleats as this gives amazing volume to your figure. Bamboo fabric works perfect for a rectangle body shape as the softness of the fabric allows the garment to give you volume without any harsh angles. If you are wearing something such as a tube skirt that hugs your body, be mindful of defining your waistline and balancing our your top half. Refer to the recommended tops for straight body shapes to find the best one for you! We love the Lana Skirt as the fabric will shape beautifully on your frame while also defining your waist.
Skirts For A Straight Body Shape