News
Styling for You: Clothes for Tall Women
Fashion Tips For Tall Women
Finding the right pieces for your body type can be tricky. Finding clothes for tall women especially can be difficult as most brands do not take into consideration different lengths of garments, and there isn't a lot of fashion tips for tall women around. We are here to change that! As a tall woman, you may like to add more shape to your looks, emphasize your height and/or may have trouble finding clothes that fit well. Whether you are a tall athletic female build, or tend to store weight in your lower half or otherwise, a lot of it is about balancing your proportions. This does not mean you are dressing to hide your figure. Whether you want to emphasise your height or want to create harmony within your proportions, we have created the ultimate guide to dressing for a tall woman, full of all the fashion tips and tricks you will need.
The below guidelines will give you some tips, tricks and recommendations for outfits for tall women. We understand that tall women come in all different builds, so we've made sure these style tips are universally flattering, as is the entire Bamboo Body range. However, rather than concealing parts of yourself, we want you to embrace your tall figure and celebrate your body through your style. We hope that you can use this blog as a general guideline to enhance your personal style and accentuate your best features! 
With the help of professional stylist and body shape expert, Angela Barbagallo, we dress Mother of three and full time professional, Carla. Carla is a tall pear body shape. She is 177cm (5'10") and wears a size L in tops and jackets and XL in pants and skirts. 
Bamboo Body loves tall bodies and knows that it can be a struggle to find clothes that fit well for tall women. Continue reading to learn all about how to dress tall below!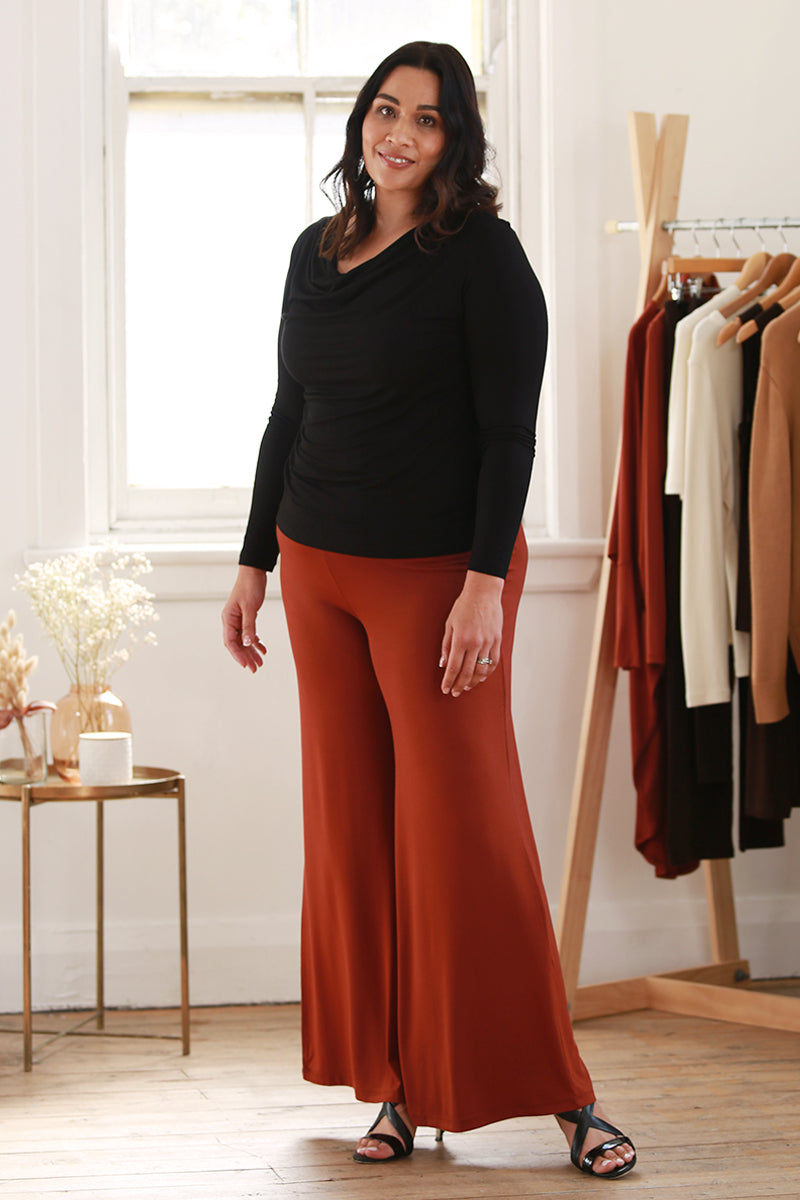 Carla wears the Long Sleeve Cowl Neck and Luxe Pant in Smoked Paprika.
What height is considered tall for a woman?
Women come in all shapes and sizes, which means there's no one-style-fits-all approach to fashion. The term tall is subjective and the average height for women varies depending on where they are from, but generally you would be considered tall if you are around or over 175cm. If you are tall, the standard garment may fall short at the ankles, or perhaps your 'high-waisted' pants may fall to mid-rise. Despite fashion for tall women being a growing market, some brands and manufacturers have not yet caught up to this necessary demographic. Don't let this deter you from shopping online. Fortunately within the Bamboo Body range we have a range of garments that suit petite, regular and tall body types. We also have put together a list of Bamboo Body clothes for tall women that suit your frame by accentuating your features. 
What not to wear if you are tall?
There are always typical rules that you will or won't follow - but we believe that there is truly no one-size-fits-all approach to dressing for your body type. Dress in whatever you feel comfortable and confident in! However, we have listed below 3 tips that you should be aware of if you're struggling to find clothing that fits well:
1. Balance out proportions and break up the visual line. Find a waistline that suits you depending on the length of your torso and legs. This may be high waisted to some, or rather low waited if you want to elongate your torso. Patterns and colour blocking also do wonders when it comes to balancing proportions. Breaking up your look into sections is great if you wish to look shorter. However, if you want to elongate your body and exaggerate your height we recommend exploring high-cut necklines and streamline silhouettes. 
2. Know your body shape; are you a pear, rectangle, hourglass, inverted rectangle, or apple? Identifying your body shape will help you find pieces that are just right for you.
Read:
Styling For You: How To Dress A Pear Shape
Styling For You: How To Dress A Rectangle Shape
3. Know your measurements; Knowing your measurements will make shopping so much easier for you rather than guessing based on the general sizing. Your leg length and arm length is very important to know when shopping for clothes. ¾ sleeves may look shorter if you have long arms. Perhaps you prefer to avoid culottes as they rise too high on your legs. Finding outfits for tall women cannot be molded into one singular guideline as we all come in different shapes and sizes.
Once you have an understanding of your styling goals and know the measurements of your body, now it's time to find pieces that you know will work for your body type. We've curated a list of stylish fashion outfits for tall women, no matter your shape or size!
Dresses For Tall Women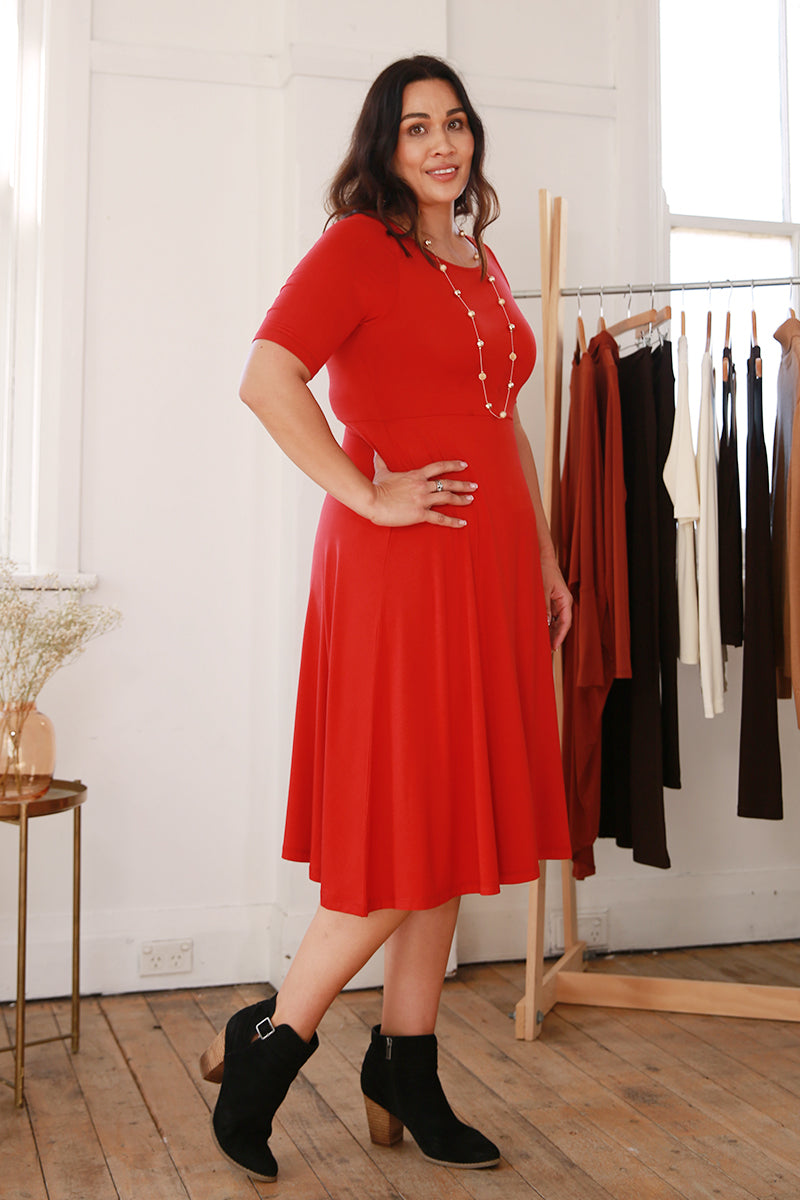 Carla wears the Harmony Dress
The Best Dresses For Tall Ladies

The issues with dresses for tall women will always be the length. Our fashion tip for tall women is opt for the Maxi! Tall women can easily suit maxi and midi dresses effortlessly. Styles like shift maxi dresses can accentuate your height which we love. However, if your goal is to look shorter, we recommend to try and pair it with flats or sneakers rather than with heels to balance out the proportion. Dresses tend to be more flattering when the waistline is defined in some way to control the flow and balance. To reign it in, try cinching up the waist with a belt if your dress doesn't feature a waistline. Sometimes long dresses for tall women may feel overwhelming as if the fabric is swallowing you whole. Try opting for a midi dress or something shorter in length. We think dresses look amazing styled on tall women. Here are a couple of pieces that we think you will shine in.
Dresses For Tall Women
Click here to find the perfect black dress for summer.
The Best Tops For Tall Women
There are so many different tops for tall women that look amazing and help balance out proportions. V Neck Tops or round shaped necklines are very flattering on tall women as the open silhouette simply draws the eye downwards and beautifully accentuates a long neckline. Tops that are long in length will emphasize your long torso and allow you to play with the waistline of your pants. At Bamboo Body you can filter by length to find the perfect style for you. Wear your tops over your bottoms rather than tucked in to create a streamlined silhouette which can look fabulous on tall bodies. However, if you do like a tuck, pair your top with a longline blazer or jacket to maintain that sleek line. Tunics are also your friend! Tunics often feel too long on shorter women but are the perfect top for tall women.
The issue for tops for tall women can often come with the sleeve length. A lot of tall women have long arm lengths which can affect the area in which a sleeve will end on the body, more often than not in an awkward forearm situation. Three quarter sleeve tops are great for tall women and helps avoid this issue completely. 
Here are a couple of tops for tall women that we think look amazing on all shapes and sizes.
Tops for Tall Women
The Best Jackets For Tall Women

As with tunics, tall women can easily pull off long and streamlined silhouettes. Some great jackets for tall women include longline jackets or cardigans. These longline pieces always look chic and elegant. Break up the torso and leg line by adding a contrasting colour or cropped tee underneath the cardi to create shape. This will avoid you looking extra long if that is not your intention. Having a defined waistline under the long layer helps break up that long visual line and creates some balance. If you want to emphasise your waist, we recommend choosing a more cropped cardi like the Drape Cardi which sits right at your waist. This jacket also fixes the long arm issue as the cropped sleeves will sit perfectly above the elbow. If full coverage is what you need in the cooler periods, the Waterfall Cardi comes with extra long sleeves which makes it the perfect jacket for tall women. 
Here is a selection of cardis that are the perfect addition to outfits for tall women;
Jackets For Tall Women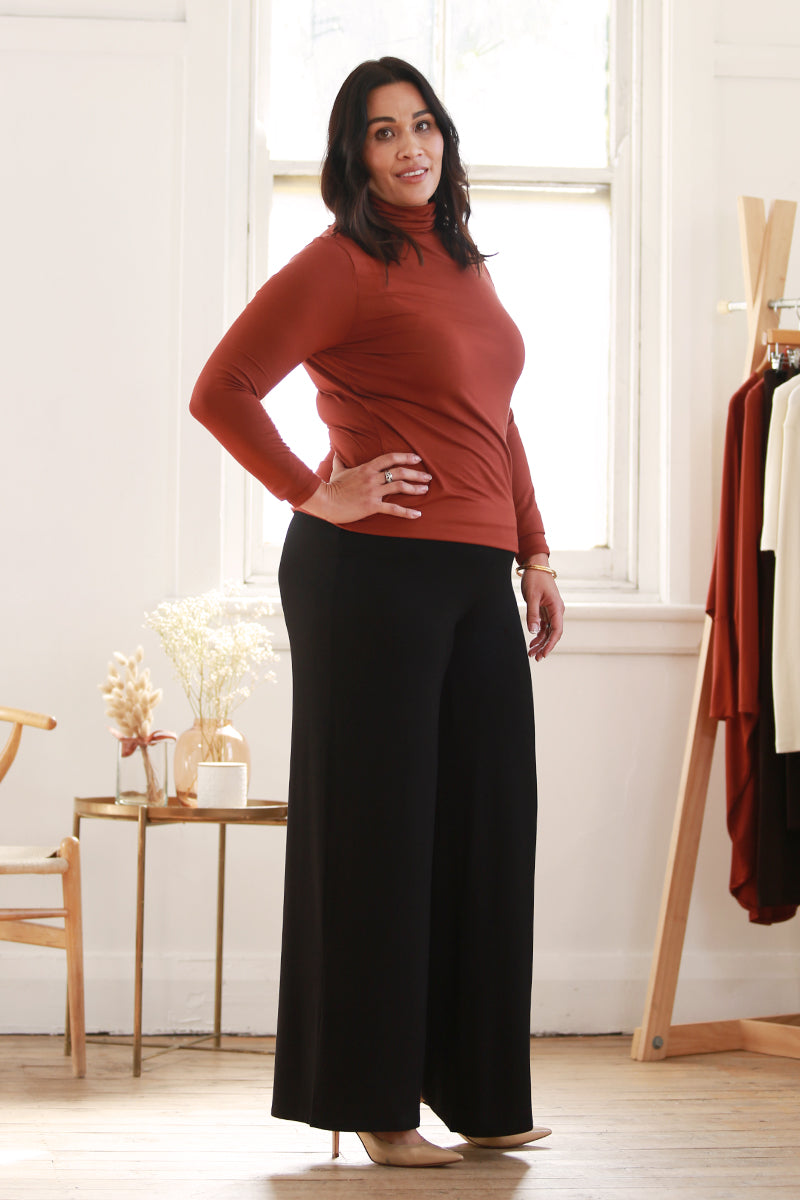 Carla wears the Turtle Neck Top and Luxe Wide Leg Pant.
Pants are another style that look amazing on tall women. Great pants for tall women include a style with a flare or wide leg. Tall wide leg pants draw attention to your hight, so if this is your intention then this is the perfect piece for you. High waisted styles also work really well to lengthen the legs and define the waistline. We would also recommend high waisted styles on tall wide leg pants as this looks the most flattering. For the days that you really want to show off your long legs, a straight leg pant is the perfect option.
Slim and skinny pants also look amazing on tall ladies. Slim, high waisted styles like leggings or peggy pants hug your curves in all the right ways. Pair slim pants or trousers with some statement heels for the ultimate look! 
Choose a pant with a longer inseam so you don't have to fear about the awkward fit. If you have trouble shopping for pants that are the right length for you, our best selling Essential Pants and Luxe Pants come in 3 different lengths; tall, regular and petite. Our Soft Bamboo Leggings are also perfect for tall women as we've added extra fabric at the ankle especially for you!
You can filter by length on the Bamboo Body website. Learn how to filter for your style here.
Pants For Tall Women
Skirts For Tall Women
For skirts for tall women, a straight, full length skirt will elongate your body and show off your height. With something streamlined like the Lana skirt, pair with a boxy top or contrasting pattern to add dimension and proportion into your look. We also love an A-line skirt on tall women because much like dresses, it can balance out broad shoulders and cinch the waist with its fit and flare silhouette. If you are looking for something shorter, a pencil skirt looks great on a tall body paired with a longline jacket or cardi. 
Skirts For Tall Women
We hope you love these fashion tips for tall women and hope you tall ladies get a long out of it. Shop our universally flattering Bamboo Body range for all shapes and sizes here