News
Styling For You: How to Dress A Pear Shape
How To Dress A Pear Shape
Finding the right pieces for your body type can be tricky. Dressing for a pear shape, also known as a triangle shape, is all about balancing your narrow shoulders and bust to your waist. To find the perfect dress styles for pear shape, the key is to emphasise the top half of your body and draw attention upwards. We understand that pear body shapes come in all different builds, so we've made sure these style tips are universally flattering, as is the entire Bamboo Body range. However, rather than concealing parts of yourself, we want you to embrace your pear shape and celebrate your curves through your style. We hope that you can use this blog as a general guideline to enhance your personal style and accentuate your best features! 
With the help of professional stylist, body shape and colour expert, Angela Barbagallo, we dress artist and Mother of two, Emma, in elegant pieces that compliment her pear shape figure. Emma is 170cm tall (5"6") and usually wears a size medium (12) in tops and XXL (18) in pants and skirts.
Bamboo Body loves pear shape bodies as they are soft and elegant. Continue reading to learn all about how to dress a pear shape below!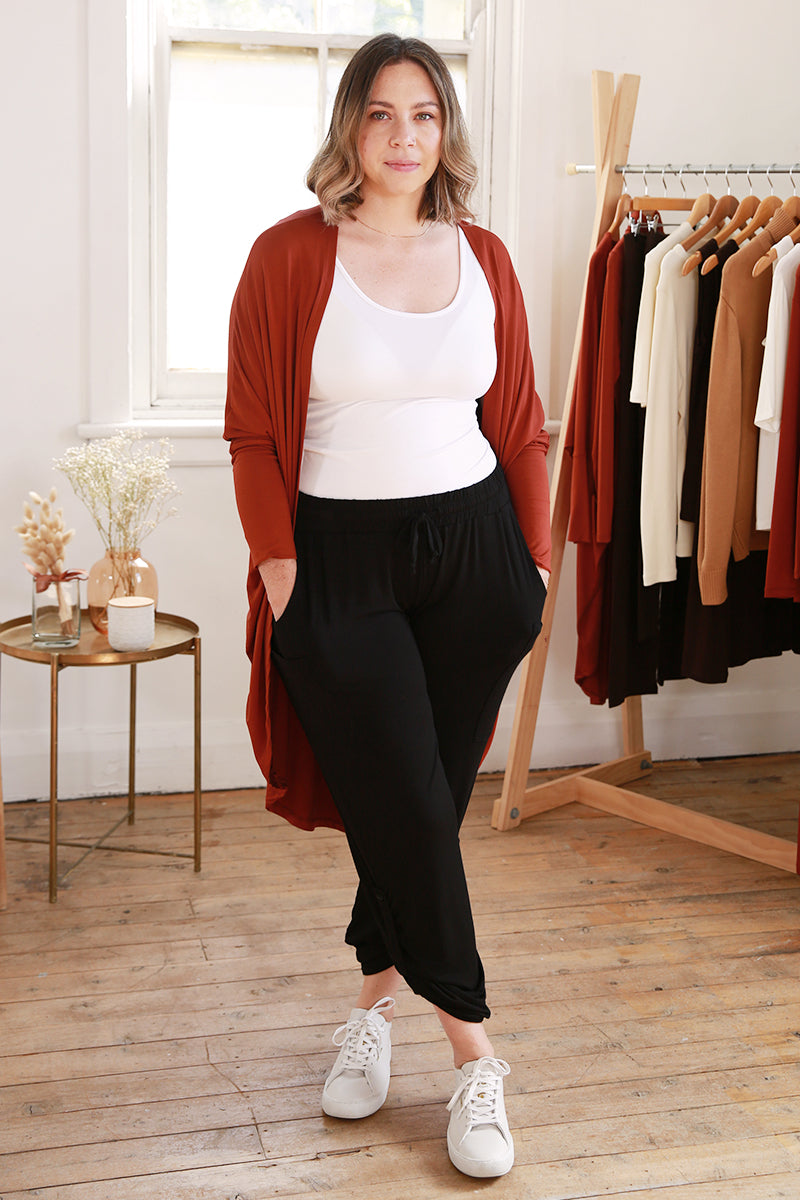 What is the Pear Body shape?
Although the idea of choosing outfits based on your body type is outdated and often used to conceal parts of your body, we want to take this opportunity to celebrate those parts of your body and help you choose pieces that make you feel confident, no matter what shape or size you are. Finding the perfect dress styles for pear shape bodies does not mean you have to restrict! Implement the tips that speak to you the most and integrate it into your personal style.
If the below applies to you, then you may have a pear body shape.
You have narrower shoulders in comparison to your hips
You have a defined, slim waist
You tend to have an elongated waist and the legs tend to be shorter in comparison to the rest of your body
You consider yourself to have fuller hips
Celebrities such as Beyoncé, Kim Kardashian, Christina Aguilera and Rihanna all have a pear shape body! 
How To Dress A Pear Shape
When it comes to dressing a pear shape, the key is to balance it out. With a pear figure, one of your best assets is your slim waist. Make sure to show off your waistline and balance out your lower half. Play with styles that balance out both halves of your body. Consider lines, colours and patterns to draw attention and create curves and length.
When dressing for a pear shape, you might want to play with proportions that elongate the body. Pear shapes look great in tops that draw the eye upward, highlight the shoulders, accentuate the waistline and elongate the legs. If you want to balance out your proportions, look for outfits that draw attention to your upper body and create the illusion of volume. Experiment with your body shape and see what works best for you!
Building A Flattering Wardrobe For A Pear Body Shape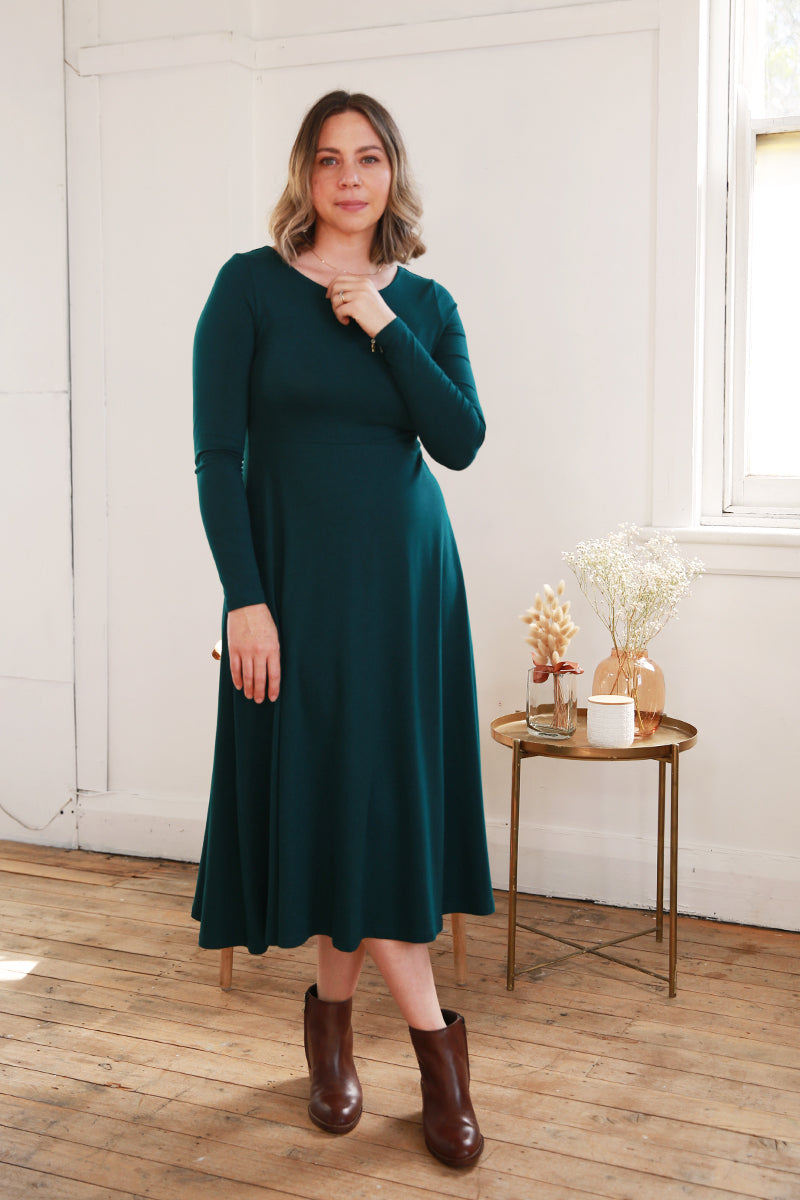 Dresses for Pear Shapes
There are so many dress styles for pear shape bodies that look amazing on your figure! Fit and flare a-line dresses and skirts are your best friend because of the ability to highlight the features you're most confident about - that slim waist! It also balances your bottom half and streamlines your silhouette. A hemline that hits just below the knee will elongate your frame and create a flattering long line through the hips and thighs. 
You may also want to consider a wrap dress, which will be incredible in defining your waist. The v-neckline detail on a wrap dress helps balance your proportions, and creates an element of interest within your style! Additionally, dressing for a pear shape sometimes means that you wish to elongate your body. You can't go wrong with Maxi styles here as they create length throughout the body and look absolutely fabulous!
Style tip: When accessorizing, opt for a statement belt to accentuate your waist and add extra interest to your look.
Shop dress styles for a pear shape below.
Shop The Look
Tops for Pear Shapes
When dressing for a pear shape body, your main aim may be to draw attention to your top half as well as your defined waist. Play around with bright colours, detailing and necklines to widen your top half and bring it more into balance with your hips. Statement necklines are perfect for someone with a pear body shape, adding that element of interest. This can be through a v-neck, cowl or boatneck, drawing attention to the top half of your body and balancing out your proportions. Fitted or structured tops give you definition around your narrow shoulders and draw attention to your slim waist. 
Long sleeve tops further elongate your frame. Structured, minimal styles that are slim and tapered look perfect on a pear body shape. Additionally, to add extra interest to your outfit and to draw attention to the top half of your body - choose sleeves with extra volume. For example, a flutter sleeve, bell sleeve or batwing. For short sleeves, opt for something loose and structured as well to add that volume.
Shop tops for a pear body shape below.
Shop The Look
Skirts and Pants for Pear Shapes
We completely understand how tricky it might be for someone with a pair shape to find pants that fit well and don't gape at the waist. Look for curve-skimming pants or skirts that won't suffocate your hips. Choose garments that are tight with added stretch. Our bamboo pants and skirts come with added spandex for stretch and comfort! The right pants for pear shape bodies can do wonders for balancing out proportions. Many people who dress for a pear shape also love a tailored look with a slim fit. To create more length in your legs, opt for wide legged pants, slim or straight leg pants and midi skirts. High waisted styles will accentuate your waist and will create a more balance silhouette. If you are a petite pear shape, opt for a bootcut or classic trouser fit.
If you do not want to draw attention to your lower half in order to balance out your proportions, avoid pants with extra embellishments or huge pockets. Choose styles that hug your hips and naturally slim you down.
Many blogs on dressing for a pear shape say to avoid colour and only wear dark, slimming pieces. We wholeheartedly disagree! Play with your favourite colours through playful styles such as a midi or a-line skirt, or anything with that fit and flare structure. It's all about what makes you feel confident!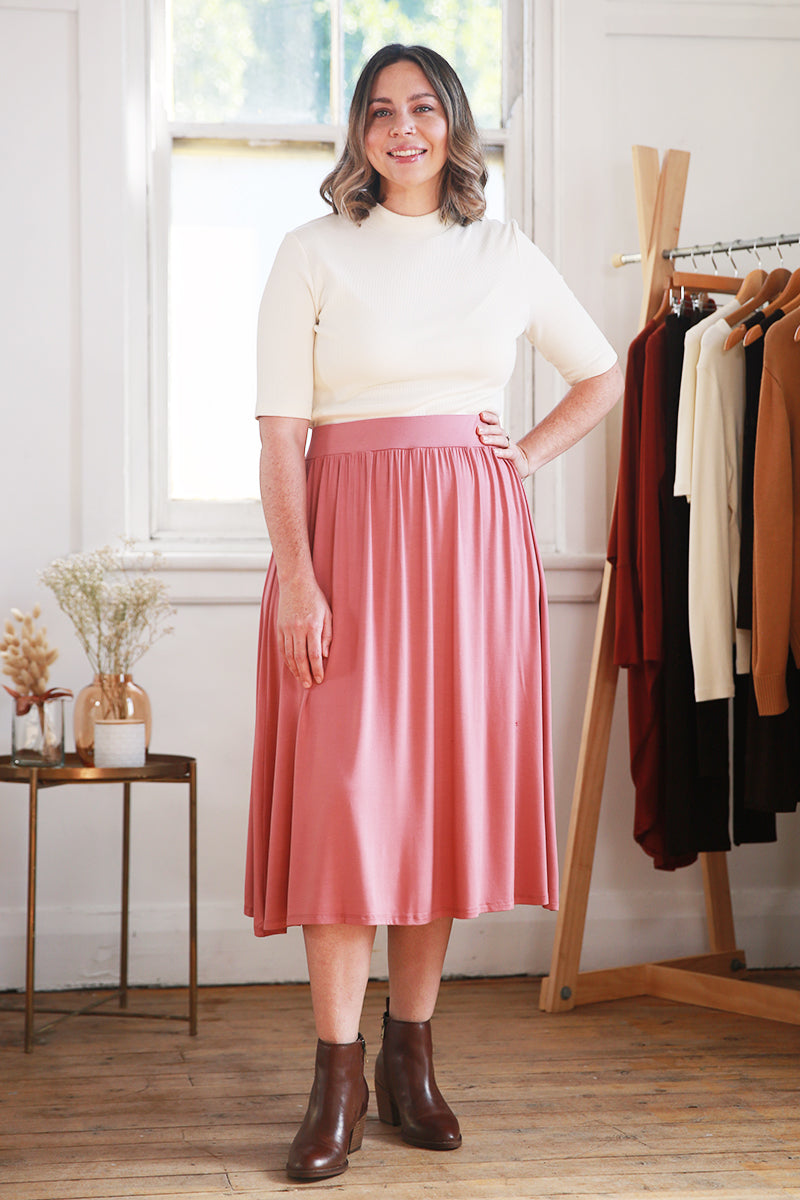 Shop skirts and pants for a pear body shape below.
Lookbook
Jackets for Pear Shapes
Long cardigans and jackets that end well below the hip work really well when dressing a pear shape. Alternatively, cropped silhouettes also look amazing on a pear shape body. It is recommended to avoid jackets that sit right at the hips. Pear shapes also look great in waist-length jackets as they emphasize the waist, and any other styles that hits mid thigh. Make sure to look out for styles that add volume to the bust and shoulders and give the illusion of a wider top half. Layering pieces look amazing on a pear shape body type as it adds dynamic elements to your outfit while also creating that visual upper weight that you want to balance out your proportions. Choose a fun bright colour on a mid-rise jacket for that extra personality!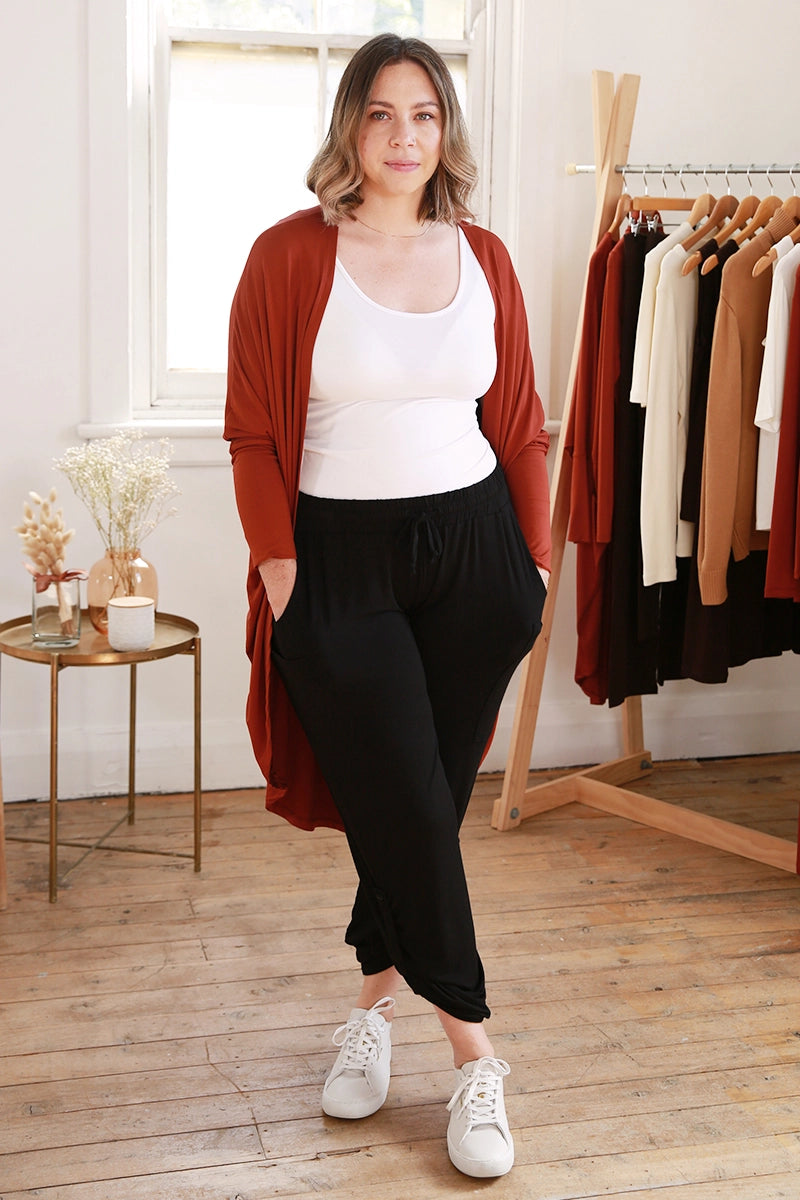 Shop more jackets for a pear body shape below.
Lookbook
How to dress A Pear Shape Over 50
As we age, our bodies will change - especially during menopause. Some people as they get older prefer to utilise clothing as a way to cover rather than highlight - and this is absolutely okay! If you want to know how to dress a pear shape over 50, we recommend clothing that is loose, breathable and has moisture wicking properties made of bamboo fabric or a bamboo fabric blend. Wear pieces that are long and fall over your hips such as a long cardigan or tunic. If your goal is to look leaner and taller - opt for column dressing! Wear monochrome base layers under a jacket or sweater in a contrasting colour, again drawing that eyeline upwards and balancing out your proportions. 
If you are a pear shape, it is recommended that you wear tighter fitting bottoms that hug your hips. Wear pants that are high waisted, and have a soft or elasticated waistband for comfort. Comfort is key here, as you want to make sure you feel as comfortable, confident and secure as possible.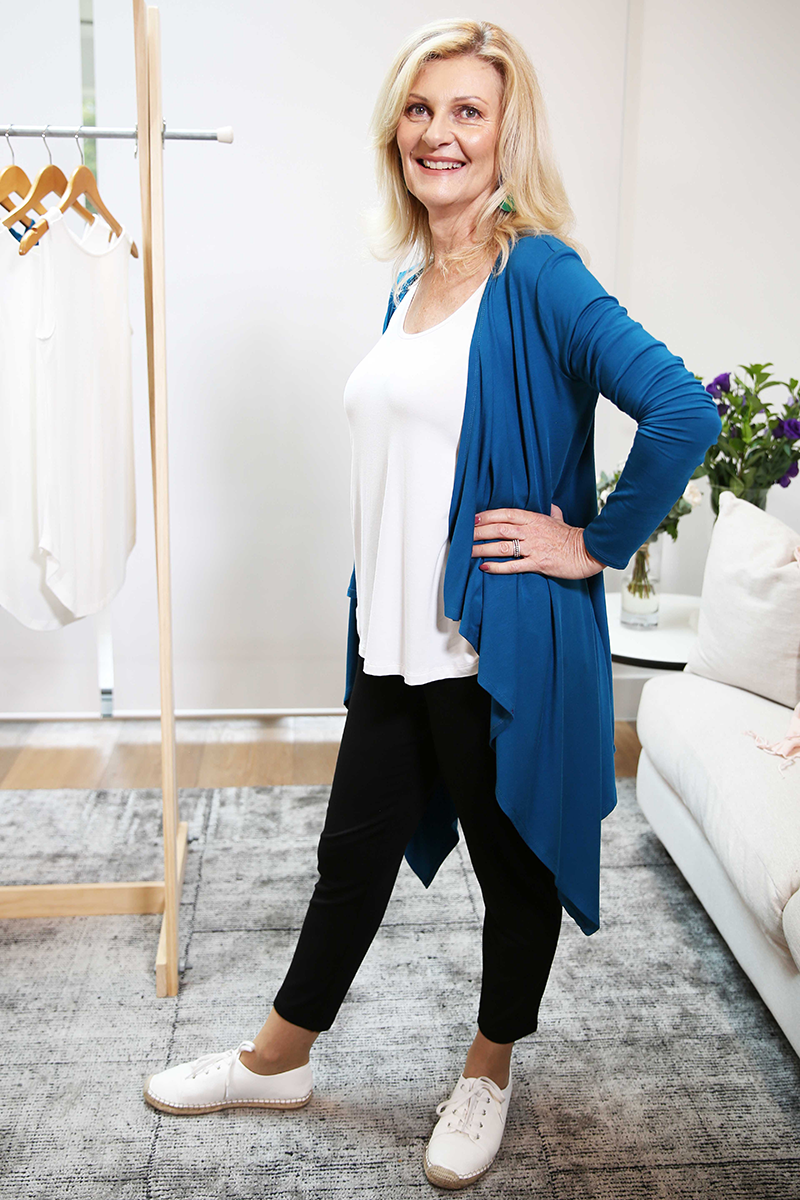 Styles For Over 50