News
The Science to Colour Matching Clothing
Using the colour wheel chart to create new clothing colour combinations
The team here at Bamboo Body are obsessed with colour! With our large range of colours in various styles, we love to mix and match different shades and hues in a number of ways. We love the way that colour can brighten your mood, or even make a statement. It could give you confidence for that important meeting, or perhaps you are after something that radiates calm. Today, with the help of the colour chart wheel, we will teach you how to mix and match colours in a way that is infallible. This guide is perfect for those who are hesitant to wear colour or are unsure of what colours mix well together. It is also perfect for those colour-obsessed customers who would like to try something new, and be able to see colours in our styles that they never would have thought to mix together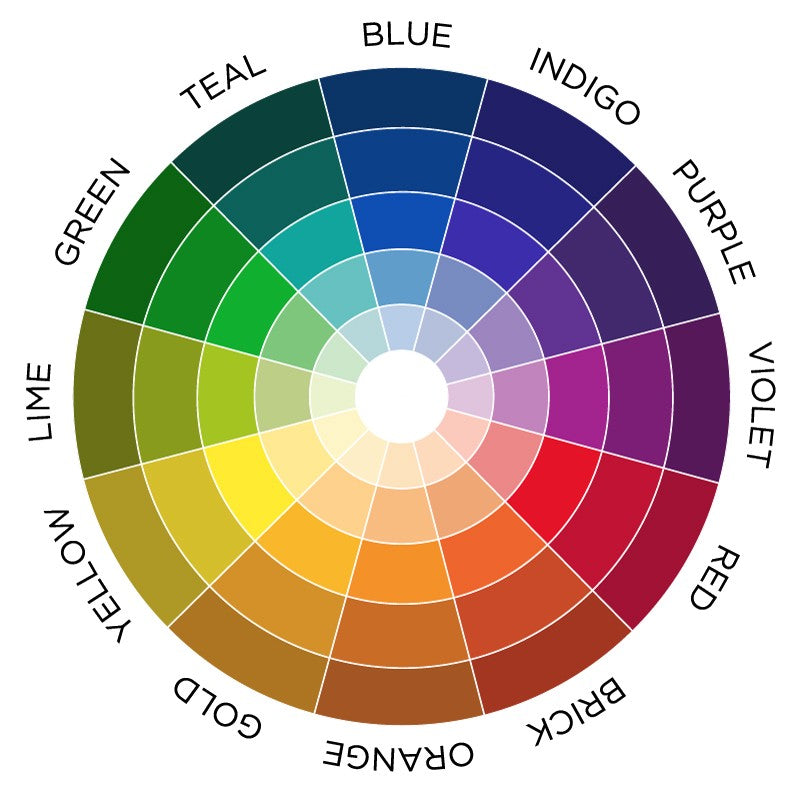 What is the Colour Wheel Chart?
You may have seen this colour wheel chart in art class in 7th grade, and then never again. However, we love the colour wheel chart as it can help you pick the perfect palette. It is a visual guide that shows the relationship between colours and it is great to keep on you when you're feeling a little bit styled blocked. The colour wheel was created in the late 17th century by Sir Isaace Newton. He mapped the colour spectrum into a circle;
Wearing colour can show off your personality, but it can also evoke a mood or a feeling that you're trying to present to the world. Colour can represent emotions. For example, red is seen as fiery and passionate. Blue can be seen as calm and cool. This psychological tool is all part of a universal human experience. Wearing these colours can make you feel a certain way, and this can help improve your confidence and spirit to start the day right. 
There are 5 different formulas to making a colour-filled outfit with help of the colour wheel chart. Check out these 5 ways below:
Analogous Colours
How to wear Analogue Colours
Analogous colours are those adjacent to eachother on the colour wheel. Wearing colours and hues similar to each other on the colour wheel is incredibly visually pleasing. When choosing the colours you would like to pair together, note that you can use any hue. Mixing bright and dark tones of the same colour and matching it with an adjacent colour looks so harmonious and chic. This is an easy way to achieve colour harmony, and you will no doubt look great in any colour set you choose!
Complementary Colours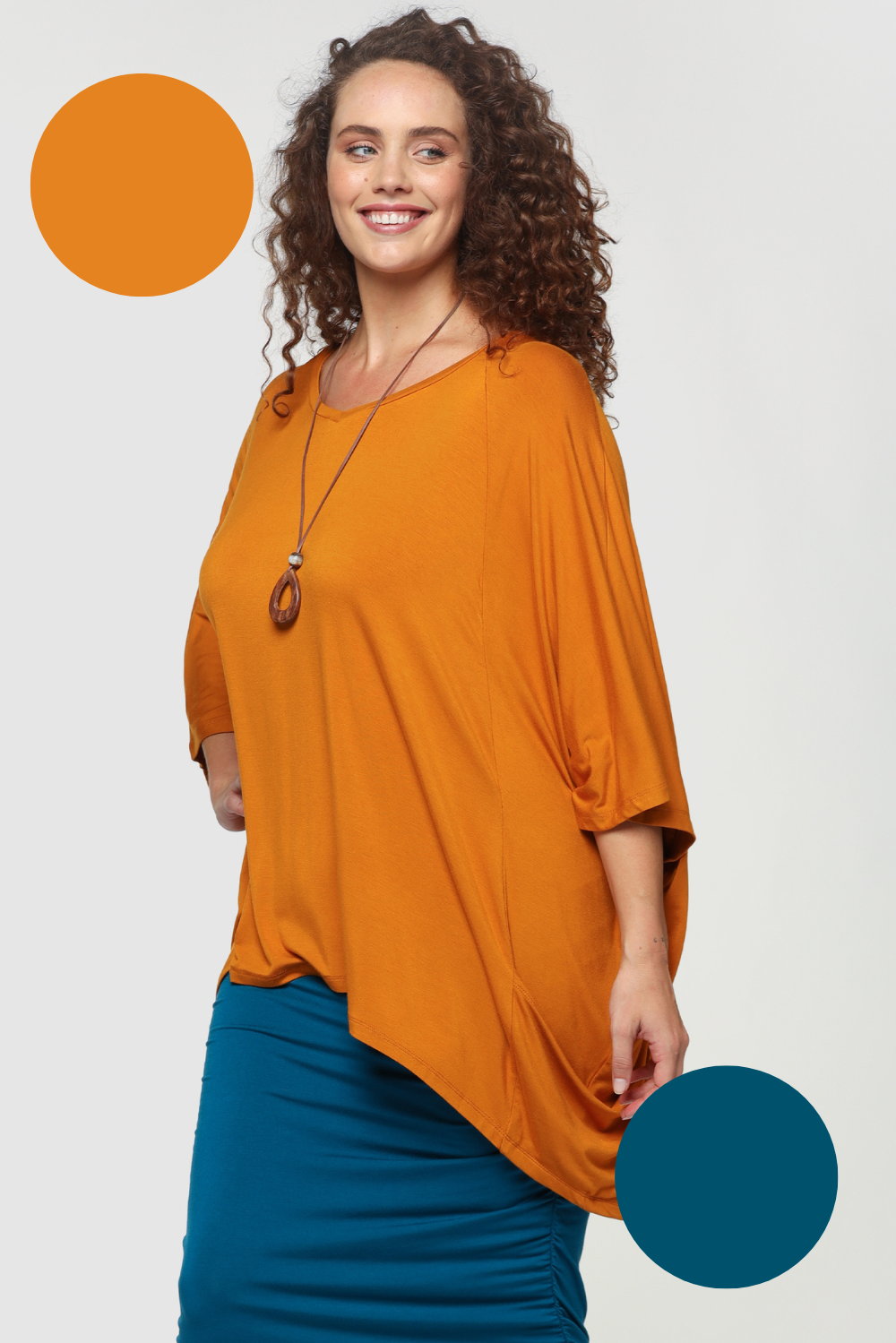 How to wear Complementary Colours
In direct contrast to wearing analogous colours, complimentary refers to the colours that sit on that exact opposite side of the colour wheel. Think oranges and blues, yellows and purples, or greens and reds together. These matches are striking and beautiful, and incredibly bold. We absolutely love complimentary colours because they never clash, despite being stark opposites. If this seems too intimidating for you we recommend pairing a bold colour with a complimentary eyeshadow colour. This will piece your whole outfit together, fitting into the complementary colour theory without relying on too much colour within the outfit itself. 
If you are ready to give complimentary colours a try, check out this beautiful pairing that we have put together for you; Featuring Turmeric and Dark Teal
Triad Colours
How to wear Triad Colours
Triad sounds exactly how you would picture - it refers to 3 points of the colour wheel that make a perfect triangle. Think purple, orange and green, or the primary blue, red and yellow. It may feel a bit overwhelming, but once you recognise these colours on the colour wheel, you'll always be able to achieve a balanced and harmonious outfit - and you'll look amazing as well!
Monochrome Colours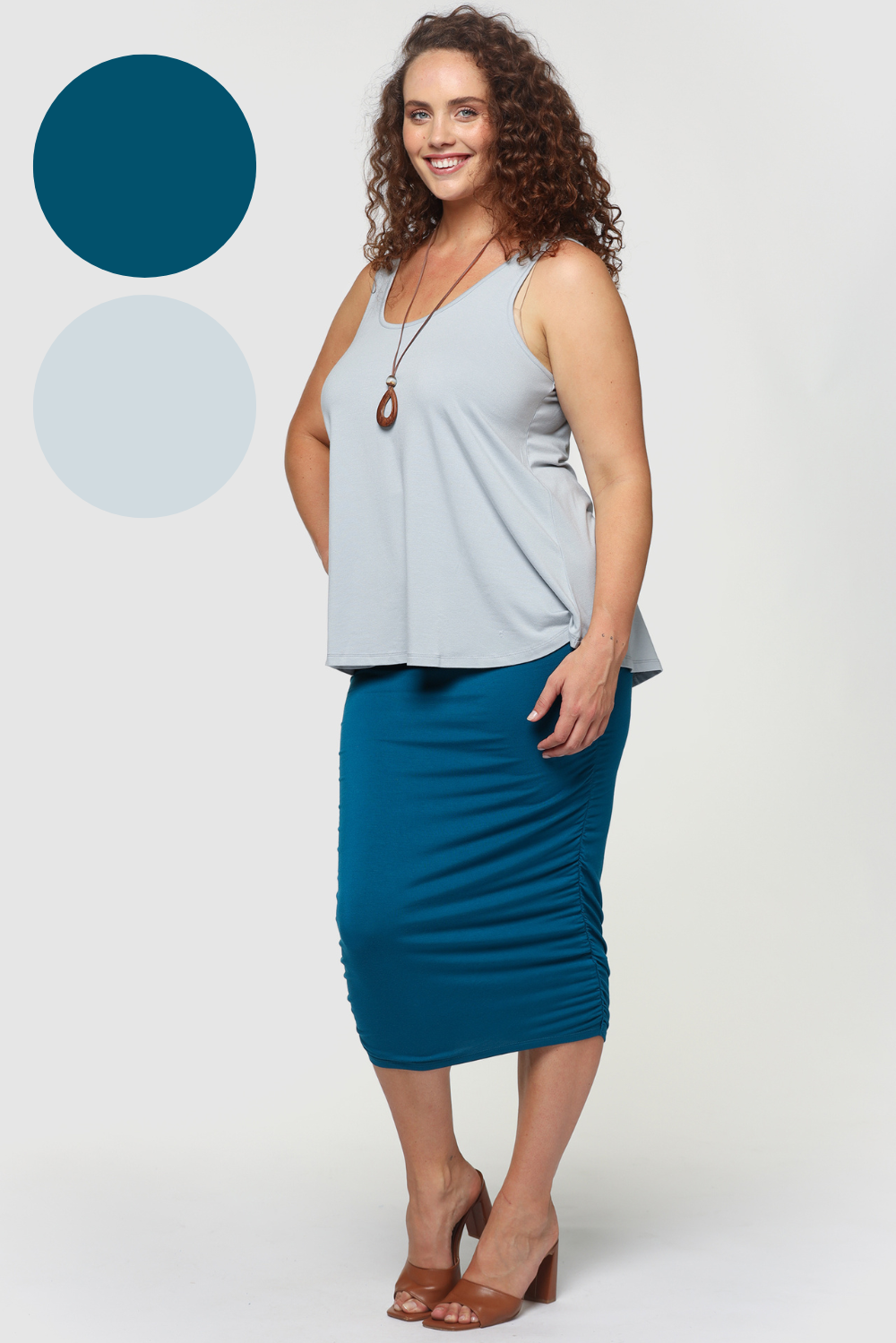 How to wear Monochrome Colours
For a chic, sophisticated and streamlined look, choose one hue of colour and mix and match different tints and shades. You can explore a neutral option with blacks, whites and greys. However, choosing a singular bold colour and pairing it with a brighter, pastel-like shade of the same hue offers so much depth.
Neutral Shades
How to wear Neutral Shades
If colour isn't your thing, that does not mean you can't participate in colour theory according to the colour wheel chart. Neutral's come in all different kinds of colours and hues. If browns and beige's are your go to, you can work with the analogous colour concept and work in different kinds of shades. Or, perhaps you love your blacks, whites and greys and prefer to dress head to toe in a chic, monochromatic look. To add extra interest to your look, play around with different patterns or textures. Neutrals can also be an amazing base for you to add a pop of colour as an accessory - this really does make neutrals pop! Pair with a bright lipstick or bold-coloured handbag and you are good to go.
Let us know what your favourite looks are. We would love to see you style your pieces according to the colour wheel chart. Tag us on Instagram @bamboobodyau in your fab new styles.
Shop Colour