News
Building a Versatile Wardrobe
A transeasonal wardrobe is one that is classic, timeless and makes you feel good - but, above all, it must be versatile and include key pieces you'll reach for again and again. After the dramatic changes of weather we've been facing in Australia, we've all come to learn that our seasons are unreliable. Which is why building your transeasonal wardrobe should also be about the art of good layering. Here are some of our tips to nail it and which must-have items you should invest in this winter, to not only keep you warm, but to maximise your existing pieces.
Hero Pieces
A wardrobe hero piece is a style you feel good in, you always opt for when all else fails and you can count on time after time. Your favourite piece can be anything from a plain white t-shirt or a statement midi skirt with an edgy cut. If you're still deciding what your hero piece is use the below criteria to help. Once you've found your hero piece, build on this with base layers, accent colours and finishing touches. 
- Does it fit me perfectly?
- Is it versatile?
- Is it timeless?
- Is it 100% me?
Here are our favourite hero pieces from our newest collection.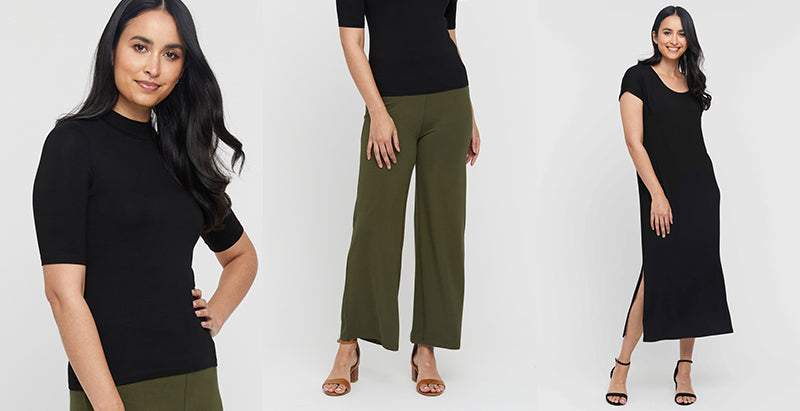 Taylor Top, Black
Eva Pant, Dark Olive
Elsie, Black
Building Base Layers
The most important part of any successful capsule wardrobe is building a solid base of comfortable, versatile layering pieces. Streamlined turtlenecks, crew necks or fitted long sleeve tops work wonders here, because they can be teamed with jeans, but also layered simply underneath dresses. The fabric of choice is key here too, as you'll want to keep warm without wearing too many chunky layers. This is where our bamboo layering pieces come in, as they're super lightweight but will also keep you warm and cosy.
Here are our favourite layering styles.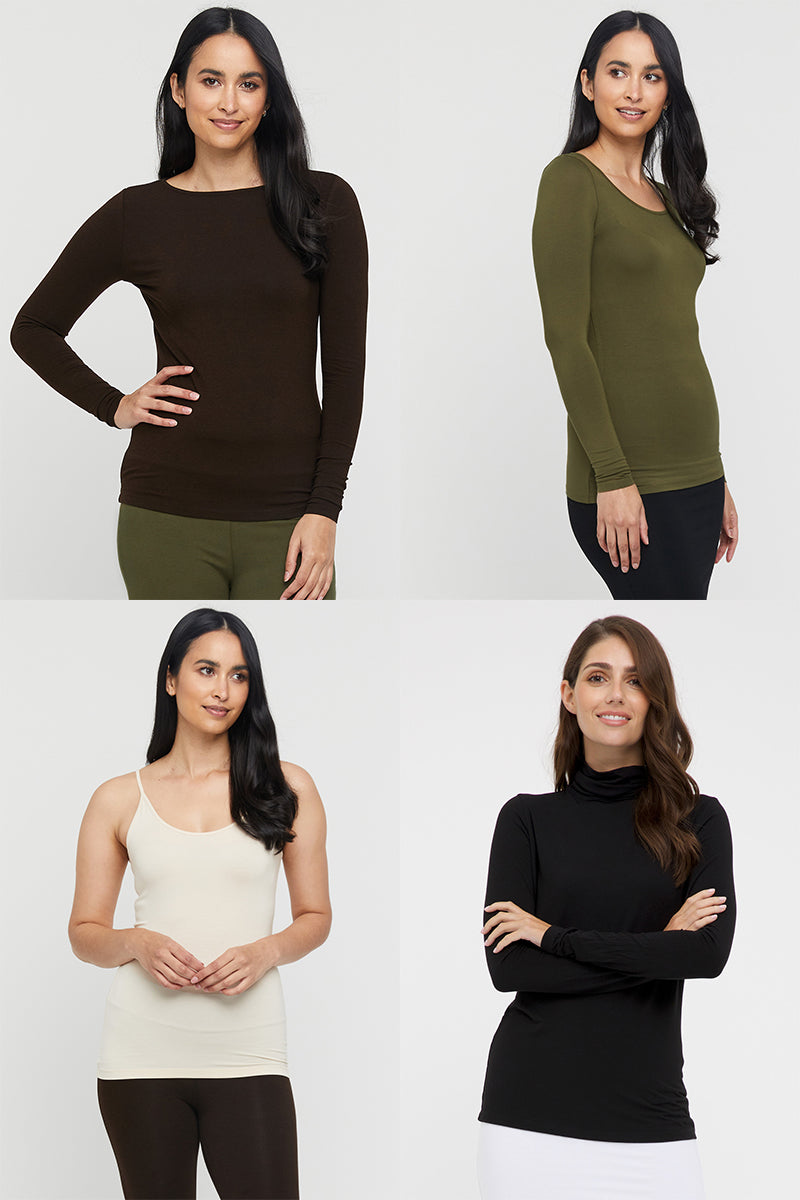 Amy Boatneck Top, Chocolate
L/S Layering Top, Dark Olive
Lucia Cami, Nude
Turtleneck, Navy
Accent Colours
Accent colours are often the most colourful in your wardrobe, a colour that's not a neutral or one of your base colours; they're colours that stand out against your basics. Accent colours are how many people change up their closet/look each season.
When choosing your accent colours, the main things to keep in mind is what colours you feel comfortable and confident in, and what you'll get the most wear out of.
Keep in mind what colours look the best on you and stick to those. When you know your accent colours, it makes it a whole lot easier to shop and in turn, save some money! Start by picking out 2-3 accent colours per season. Our favourites right now are olive green, dark red and chocolate.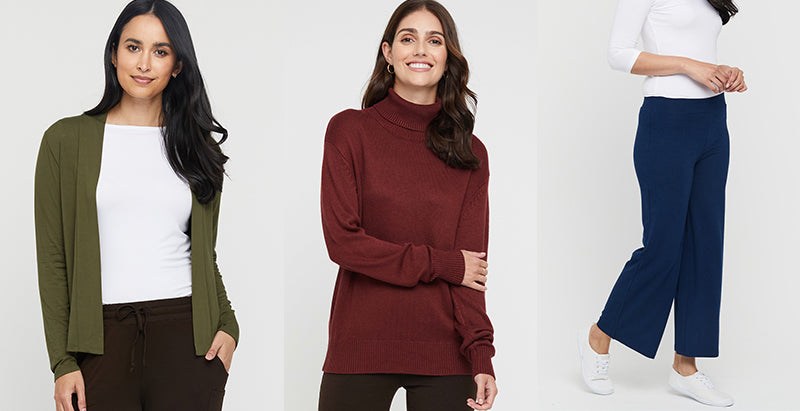 Everyday Cardi, Dark Olive
Turtleneck Knit, Burnt Brick
Eva Pant, Navy
 
Finishing Touches
The easiest items to add to your wardrobe are your accessories. For transeasonal, unpredictable weather think scarves, pashminas, tights and socks!
Our Travel Wraps are designed to be easily matched back with any Bamboo Body style and act as the practical final touch to any winter outfit. To help with styling your Travel Wrap, we've put together a blog discussing the different ways you can wear it. Find out more here.