News
FAQs About UPF Sun Protective Clothing
An introduction to UPF 50+ Sun Protective Clothing.
Australia is known for its sunny weather and outdoor lifestyle. However, the Australian sun is harsh and the UV rays are taking a toll on our skin. There is well established evidence that exposure to ultraviolet light from the sun can lead to skin cancer. According to Australia's Department of Health and Ageing, Australia and New Zealand have the highest skin cancer incidence and mortality rates in the world. It is important for people to understand the impact of prolonged sun exposure and to do whatever they can to protect their skin. One of the best ways to protect your skin from that harsh sun is to wear sunscreen, a hat and sun protective clothing. All of us have heard about SPF sun protection, but what about UPF sun protection?
With the rise of skin damage and skin cancer it is more important than ever to protect your skin against the sun's harmful rays. We may all think that a basic t-shirt offers enough protection from the sun. However, according to the Skin Cancer Foundation, a white cotton T-shirt provides only moderate sun protection, with a UPF rating of about 7. This means that even though you may be dressing modestly to avoid sunburn, sun protection fabric and UPF testing does play a big part in protecting your skin.
Bamboo Body clothing has been tested by the Australian Radiation Protection and Nuclear Safety Agency (ARPANSA) and we are pleased to announce that our fabric has a UPF rating of 50+ excellent. UPF sun protective clothing may be something you have never heard of before, so we are here to answer any questions you may have about UPF clothing. Read on to explore what UPF means, how it works and if sun protective clothing is really necessary.
What is UPF?
UPF stands for Ultraviolet Protection Factor and is the rating given to clothing and textiles for its broad-spectrum protection against both UVA and UVB rays. UVB (Ultraviolet B) rays are responsible for producing sunburn. The UVA (Ultraviolet A) rays penetrate more deeply into the skin and play a greater role in premature skin aging changes including wrinkle formation.
What is the difference between UPF vs SPF?
The difference between UPF vs SPF is that SPF is a factor for lotions, whereas UPF is a factor of clothing and fabrics. SPF stands for Sun Protection Factor, which measures the amount of time it takes for sunscreen to protect the skin from UBV rays and sunburn. Sun protection fabric is just as important as wearing sunscreen.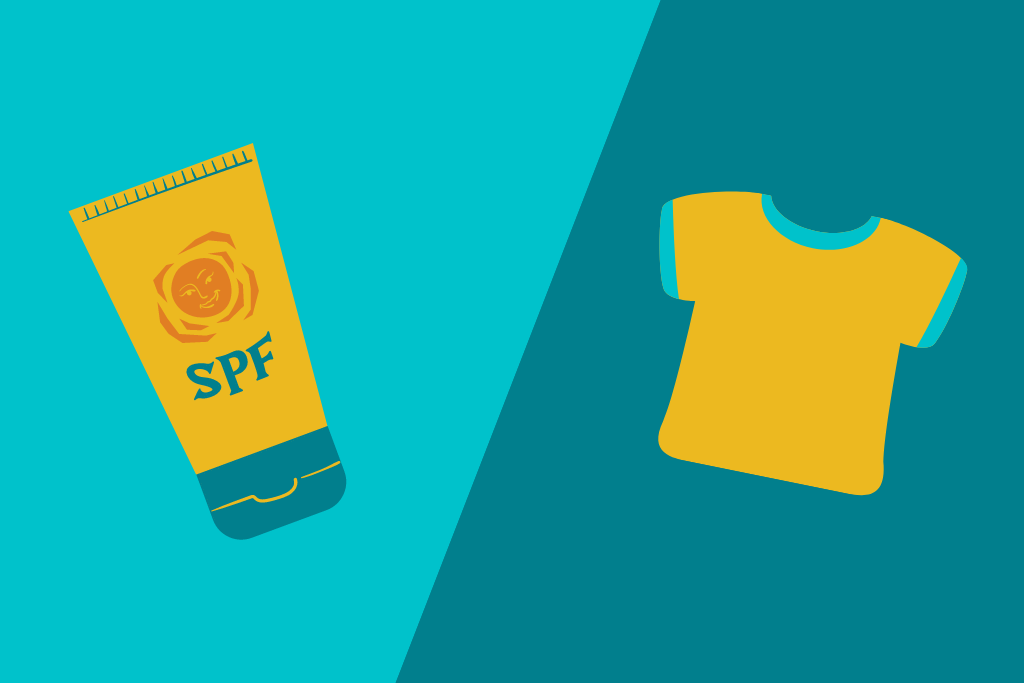 How does UV protective fabric work? What makes it sun safe?
Sun protective clothing acts as a barrier between you and the sun's rays, similar to sunscreen. Jeremy Brauer, M.D, a dermatologist in NYC and spokesperson for The Skin Cancer Foundation says, "Clothing in general has some sun protection, but sun-protective brands bump that up significantly higher." This is evident when you compare sun protection fabrics to regular fabrics. According to the Skin Cancer Foundation, only 2% of UV rays can go through UPF clothing whereas up to 20% of the UV rays can pass through regular clothing, increasing the chance of skin cancer.
So what is the best fabric for sun protection? Fabrics such as cotton, rayon, flax and hemp have a low sun protection rating, unless treated with added chemicals. Fabrics such as Bamboo, wool, silk and some synthetics are great UV protective fabrics. Stretch, weave, treatments and weight may also come into effect when it comes to choosing the best fabric for sun protection. 
When it comes to the best colour for sun protection, this also plays a factor. Darker colors will absorb more UV than lighter colors such as whites and pastels, which may be naturally more transparent. Bright and vibrant colours are also great for sun protection.The more vivid the color, the greater the protection. In saying this, all of the Bamboo Body jersey and woven fabrics come with a UPF rating of 50+, even the lighter and paler shades will help protect you from the sun.
How does the UPF rating scale work?
The UPF rating indicates what fraction of the rays can penetrate the fabric. A piece of clothing labelled UPF 50, for example, allows just 1/50th of the UV radiation to reach your skin. The higher the UPF rating, the lower the radiation and harm is transmitted to the skin. 
When Bamboo Body tested their range, the ultraviolet protection factor of most of our clothing exceeded the protection level of 50. As the standard for UPF certification stops at 50, we indicate that we go above this by using the "+" symbol, so you know our sun protective clothing can block more than 98% of UV rays. Our woven collection has a rating of UPF 30. UPF 30 blocks 97% of UV radiation while UPF 50+ blocks 98%-100%.
Is UPF sun protective clothing necessary?
Yes, sun protective clothing is absolutely necessary! UV lights account for 95% of the sun's rays that hit the earth. According to the Skin Cancer Foundation, a white cotton T-shirt provides only moderate sun protection, with a UPF of about 7. Did you know that many people are getting sunburnt through the micro holes of their regular clothes? This leads to the fact that 2 in 3 people are diagnosed with skin cancer by the age of 70. If your fabric is loosely woven, or has been stretched over time, this too can have an impact.
As we age, our skin becomes thinner which gives us a greater risk of getting skin cancer and serious skin conditions. This type of ageing can be preventative with sun protective clothing!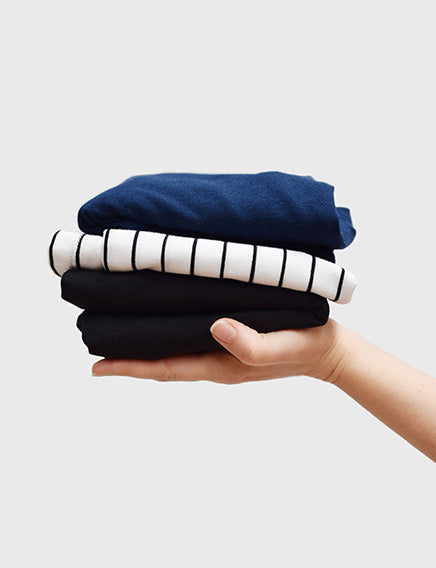 Does bamboo provide UV protection?
Yes! Bamboo is a fantastic for UV protection with the ability to resist UV rays up to 98% (UPF 50+). Again, construction, weave and finishings all make an additional impact when it comes to providing strong UV protection.
What is the best fabric for sun protection?
There are only four UPF ratings for clothing: UPF15, 30, 50 or 50+. Material with a UPF rating of 30 would only allow 1/30th (3.3%) of UV falling on its surface to pass through it, blocking 96.7% of UV. Any fabric rated above UPF15 provides minimum protection against UV. UPF50 and UPF50+ (excellent protection) are recommended.
Fabrics such as bamboo are incredible when it comes to UV protection. However, fabrics do not need to be UPF rated to provide protection. Some characteristics that provide protection include;
Fabric structure - the tiger the fabric structure the better the sun protection. Think linen, cotton and hemp
Tension - a fabric will be less protective when stretched.
Layering - Layering your clothing is an effective way to increase protection from UV. 
Colour - Darker colours work better at absorbing UV radiation
Moisture content - fabrics offer than protection from UV radiation when wet - fabrics such as bamboo have moisture wicking properties will dry quite quickly
Care - when you wash your clothes, your pieces than shrink which results in smaller gaps within its structure. Be wary of old and faded clothing that will offer decreased protection over time
Other treatments - some clothing pieces are treated with certain chemicals that make it more UPF friendly. Check the care label to know if your pieces are sum friendly.
Clothing pieces with tight fabric structure, thick tension, dark shades and extra UV protective treatments serve as the best clothing for sun protection.
Do I still need to wear sunscreen when wearing sun protective clothing?
Yes. While our sun safe clothing is guaranteed to protect you from 99.8% of UVA/UVB rays, sunscreen should still be worn in areas where the skin is exposed. 
Experts recommend protecting all your skin with not only sun protective clothing but also hats, broad-spectrum sunscreen and lip balm of SPF 30 or higher. Dermatologist, Melissa Kanchanapoomi Levin, MD states "protective clothing and broad-rimmed hats are one of the most important steps when it comes to safe sun practices in my opinion."
Sunscreen is still an integral part of your sun protection routine. Please keep in mind that sun safe clothing cannot completely replace your sunscreen routine. It is still important to use both SPF sunscreen and UPF sun protective clothing for optimal sun protection.
What are 4 things you can wear to protect yourself from the sun?
The 4 things you can wear to protection yourself from the sun are;
A wide brimmed hat
Sunglasses with UV protection
Sun protective clothing - long sleeves and lightweight materials
SPF 30 or higher.
Has the Bamboo Body range been UPF tested?
Here at Bamboo Body, we take pride in making sure our sun safe clothing is tested and certified by Australian Government Agency, ARPANSA. All our UPF 50+ garments have been awarded the maximum UPF 50+ sun protection rating, meaning they offer broad spectrum protection that blocks 98% of UVA and UVB rays. 
The UPF rating scale is between 15 and 50:
15-24: good
25 - 39: very good
40 or higher: excellent
What sun protective clothing do you sell?
All main fabrics in the Bamboo Body range have a UPF rating, with an exception to our Pyjama, Australian Made and Tracksuit range. Our BS (bamboo viscose and spandex) and BOC (bamboo, organic cotton, and spandex) fabrics have a UPF rating of 50+ while our woven collection has a UPF rating of 30. UPF 30 blocks 97% of UV radiation while UPF 50+ blocks 98%-100%. At Bamboo Body we offer a large range of affordable sun protective clothing for all body shapes and sizes, and whilst UPF 50+ clothing has traditionally been utilitarian and not style-focussed, the Bamboo Body collection offers a wide range of everyday styles to suit any occasion. We offer lightweight sun protective clothing that is breathable and odour resistant, meaning you can wear long sleeve pieces in the summertime. Our UV protective fabric has been made for work, weekends and everything in between!
What are your top UPF sellers?
You can view our curated UPF sun protective clothing capsule here. This selection includes styles with more coverage - higher necklines, longer sleeves and bottom lengths. Our affordable sun protective clothing range is something we are incredibly proud of as a small Australian business. 
To get maximum sun protection we recommend looking for styles that cover more skin. We have kept in mind that wearing longer sleeves and higher necklines can tend to make us overheat. Therefore, our bamboo products are essential for the warmer months; while achieving a UPF rating of 50+, they are also lightweight and breathable! Studies show that bamboo clothing is more breathable than cotton and its moisture wicking properties help keep your body fresh and dry. 
If you want to learn how to style our sun protective clothing, check out our Styling For Sun Protection Blog here.
Here are some of our best-selling UPF sun protection clothing:
Sun Protection Clothing