News
Your Guide To Our Best Bamboo Underwear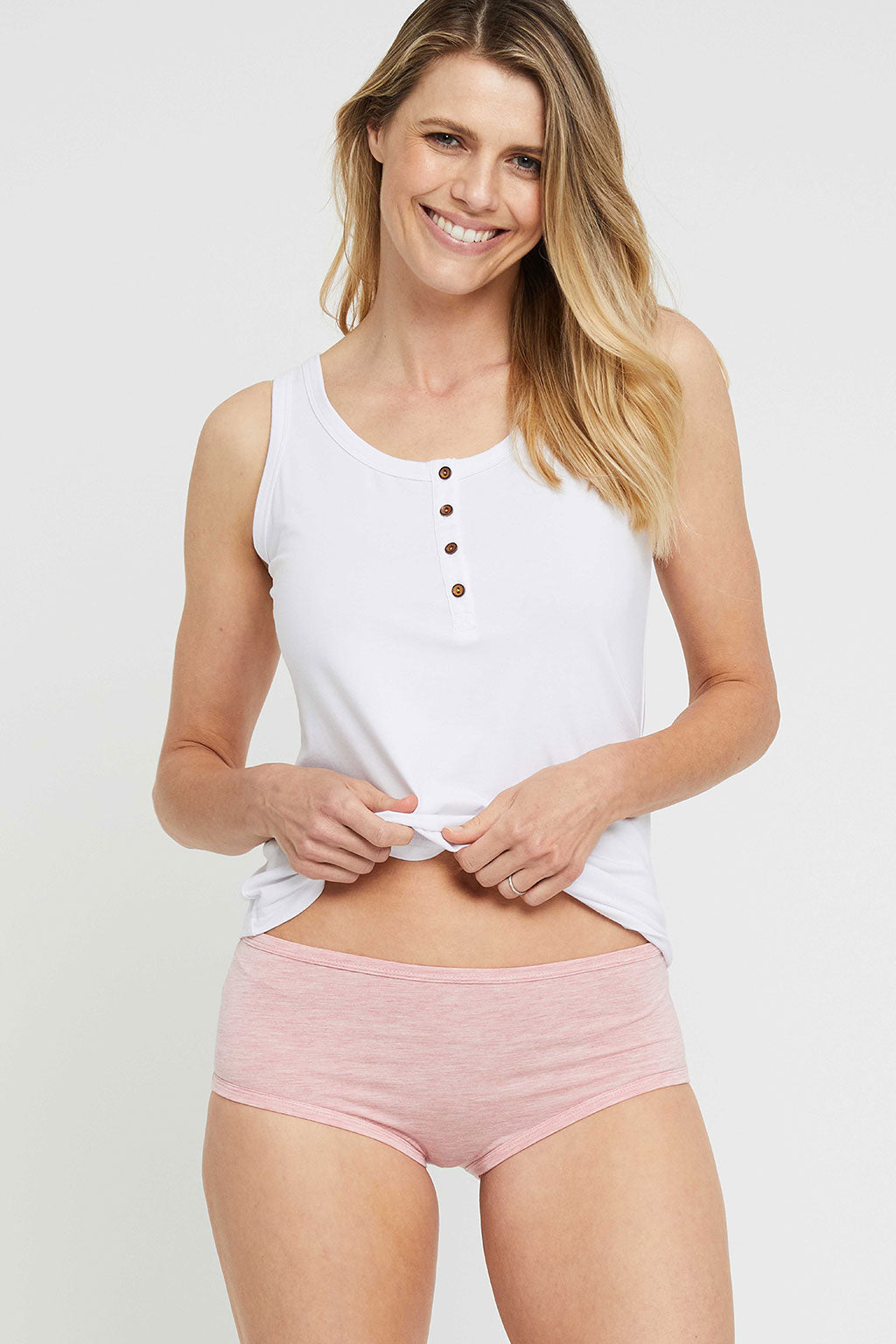 What is bamboo underwear? Bamboo underwear is an incredibly soft, safe and sustainable alternative to other underwear! Not only are bamboo undies breathable, but they are also antibacterial, hypoallergenic and moisture-wicking! Our organic bamboo underwear range is made with comfort in mind. Crafted with a beautiful blend of bamboo fabric, our bamboo underwear is made sustainably with the deepest respect for both our planet and its people. Bamboo is one of the most sustainable and renewable resources in the world and can be an ethical alternative to your cotton or synthetic undergarments. From bamboo boyleg underwear to seam free bamboo underwear and bamboo mens undies, Bamboo Body has a large range of styles that are so soft you will never look back! It's safe for you and safe for our planet. 
So what is so great about bamboo underwear? Below we're put together a list of bamboo underwear FAQs so that you know all the amazing benefits of bamboo before you buy.
Common FAQ about Bamboo Underwear
What is bamboo underwear?
When you first hear about bamboo underwear, your thoughts may go to what the pandas eat - the woody, lightweight yet sturdy plant. Sounds uncomfortable, doesn't it? In actual fact, you may be pleasantly surprised to find that bamboo fabric is incredibly soft and luxurious. Bamboo underwear is made of bamboo viscose. In the production process, bamboo yarn is produced by pulverising the bamboo stalks and then regenerating the cellulose from the bamboo into a smooth yarn. Some of our bamboo undies are made with a touch of spandex for added stretch, or with a blend of organic cotton for extra softness and comfort.
Is bamboo underwear safe?
Yes, bamboo underwear is absolutely safe! Bamboo undies are naturally antibacterial. These antibacterial properties remain in the bamboo fabric after manufacturing, which means that bamboo clothing is incredibly hygienic. It also means you are less likely to get irritated skin. Additionally, it also has the ability to resist and eliminate odours!
On top of the beneficial anti-bacterial properties, our bamboo fabric is also OEKO-Tex100 certified, which means it is free from harmful chemicals and residues. Bamboo undies are the perfect underwear for sensitive skin as people with skin sensitivities such as eczema and psoriasis report that our bamboo clothing does not irritate their skin like most other fabrics. Bamboo is also naturally hypoallergenic!
Is bamboo underwear breathable?
Yes, bamboo underwear is breathable! Studies show that bamboo clothing is more breathable than cotton. Our underwear has a light and silky texture with the ability to stretch and return to its original size. 
Is bamboo good for moisture wicking?
Both bamboo socks and bamboo underwear have moisture-wicking properties that help keep your body fresh and dry. It allows moisture to evaporate into the air quickly. Our bamboo underwear also has an element of thermal control and feels luxuriously soft to the touch.
The difference between bamboo vs cotton underwear
There are so many fantastic differences to bamboo vs cotton that will make you think twice before choosing the right underwear for you. Firstly, bamboo underwear is much more breathable than cotton. Bamboo fabric is also 4x more absorbent than cotton.
As well as being more anti-bacterial, toxic-free and absorbent, it is also a great sustainable underwear alternative. Bamboo is incredibly environmentally friendly. Bamboo is the fastest growing plant on earth and is one of the few plants that can keep up with deforestation. Bamboo only takes 5 years to mature compared to 30-40 years for trees. It also needs less water to grow than cotton, who is well known for having a deeply negative environmental impact. Cotton is responsible for no less than 11% of all pesticides and 25% of all insecticides used in the world, while our organic bamboo is free from any pesticides and insecticides.Bamboo is therefore one of the best sustainable underwear fabrics! Learn more about bamboo and the benefits of bamboo fabric here.
Is bamboo underwear eco-friendly?
Bamboo is a sustainable alternative to cotton. It is one of the most sustainable and renewable resources in the world and requires no pesticides, fertilisers and very little water to grow. Bamboo is biodegradable and will leave minimal environmental impacts towards its end of life, unlike synthetic fibres. Our sustainable underwear is also ethically made. Our bamboo crop is approved by the Forest Stewardship Council (FSC), who provide the gold standard in environmental forest certification. We consider the entire lifecycle of a product and initiate sustainability from production to the end of life of a garment. 
Is bamboo underwear good for sensitive skin?
Yes, our underwear is perfect for sensitive skin! Our bamboo undies are extremely smooth, soft and naturally hypoallergenic. As stated above, our bamboo fabric is OEKO-Tex100 certified which means that our bamboo underwear is free from harmful chemicals and residues. People with skin sensitivities such as eczema and psoriasis report that our bamboo clothing does not irritate their skin like most other fabrics.
Read our Bamboo Clothing FAQ here
With a range of styles and shapes, there is a sustainable bamboo underwear shape for everybody. Check out our bamboo underwear range below.
1. Full Brief
Our bamboo full briefs the perfect everyday cut. These bamboo undies are seam-free with a boyleg cut. Our breathable bamboo briefs are a classic style that sits mid-rise, giving you full coverage. We love the full briefs because they are an essential piece for everyday wear. These bamboo undies are highly breathable and comfortable while it's suitable for sensitive skin and allergy sufferers. Available in a pack of three, this is the perfect underwear gift set that is eco-friendly, breathable and comfortable. 
Available in a pack of 3 - Pistachio, Apricot and White. Also available in Black, White and Purple
Fabric: 92% Bamboo Viscose / 8% Spandex
2. Hipster Briefs
The Bamboo Hipster Briefs are designed for all shapes and sizes. These bamboo briefs have a stretchy silhouette while being supportive and feminine. The hipster briefs have a low leg line, are midrise and have full coverage. They also have an elasticated waist and leg seams. The soft and smooth fabric of these bamboo undies will leave you feeling fresh and comfortable all day long!
Fabric: 95% Bamboo Viscose / 5% Spandex
3. Bikini Briefs
The Bamboo Bikini Brief is the most comfortable sustainable underwear around. Featuring overlocked leg seams for comfort and reduced bulk, this simple low rise style features thin sides and a classic bikini shape. They are soft and stretchy and move with your body, and almost feel like you are wearing nothing at all! We love breathable and sustainable bamboo underwear like the bamboo bikini brief.
Available in single or multi-packs.
Fabric: 95% Bamboo / 5% Spandex
4. Comfort Undies
Our comfort bamboo undies are up next, and the name speaks for itself! Our breathable and comfortable bamboo comfort undies are incredibly soft and breathable. Crafted with a blend of cotton and bamboo fabric, this style is free from nylon or elastic and the fabric is dyed using our Eco-Colour process. These bamboo briefs are a boyleg shape with a mid-length wait. These everyday favourites will keep you fresh and comfortable all day long.
Includes pack of 5 undies. Colours include: Moss Green, Lavender, Rose, White and Oatmeal
Fabric: 63% Bamboo Viscose / 29% Cotton / 8% Spandex
5. Seamless Bamboo Briefs
Our seamless bamboo briefs are breathable, comfortable and are everything you need. With more coverage, these soft and supportive bamboo undies have a high waist, ribbed waistband and a stretchy silhouette for maximum comfort. These full briefs come in a pack of 3, making it the perfect eco friendly gift for someone you love.
Fabric: 76.5% Bamboo Viscose / 19.5% Polyamide / 4% Elastane
Men's Bamboo Underwear
For Men
Underwear is one of the easiest gifts to give to your partner, parent or friend as it's practical. Our mens bamboo underwear comes in a range of styles, from mens boxer shorts to mens trunks and mens briefs. These sustainable underwear styles make the perfect eco gift. Like our women's bamboo undies, our mens bamboo underwear comes in a large range of sizes, and is soft, breathable and sustainable.
Bamboo Socks
Bamboo Body has a variety of bamboo sock styles available including our black Bamboo Business Socks,  Bamboo Ankle Socks and our extra Thick Bamboo Socks. Each style is unisex and loved by men and women around the world. Available in classic black or white, Bamboo Body have a style to suit everyone.  Grab a pair now!