News
What's Your Colour Mood: Biscuit Edition
Explore Biscuit Through Your Favourite Aesthetic
Choosing your neutral colour palette is an essential step to creating a capsule wardrobe that you feel comfortable and confident in. This does not mean that black and white are your only choices for a neutral base. Instead, inject a playful element into your neutral capsule by adding biscuit. Designed for versatility, biscuit in these stunning staples can be layered and styled for the office, for travel and everything in between. In this blog, we invite this neutral into your wardrobe and help you find your new colour palette through your most beloved aesthetics.

1. The Classic
The Classic refers to a very sophisticated and clean capsule that gives you a fresh, chic Parisian feel. Navy and white integrate harmoniously with our biscuit range. This colour palette can be translated and adopted throughout all seasons and seamlessly flow in-between trends. This look will never go out of style.
Styling Notes:
If you want a sophisticated look, Bamboo Body has you covered. Opt for a pair of our Luxe Wide Leg Pants in Biscuit with the L/S Layering Top in White. Throw over one of our cosy Travel Wraps in Ink. This wrap can be worn as a scarf, shawl, snood or blanket and can be tied and wrapped in many different ways. It's the perfect style for a casual brunch, long haul travel or for cosying up on a cool day.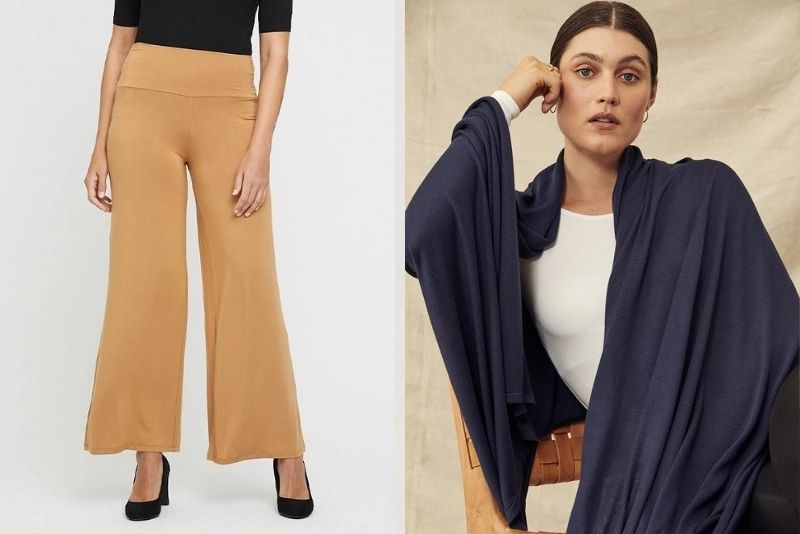 2. High Contrast
Black can be a comfort staple to some, and we don't want to take that away. We recommend mixing biscuit with black for a heightened, classy look that feels elegant and strong. This vibe is perfect for a chic, night-time look or a sophisticated office staple. With the weather becoming cooler, this is the perfect duo to make the transition into the cooler seasons.
Styling Notes:
Below are 3 warm, transeasonal looks that can be mixed and matched for ultimate versatility. Whether it be to lounge around or to step on the town, this style speaks volumes. Add in some biscuit stripe for some interesting lines and shapes. Layer biscuit over black and white to elevate a simple form. The Waterfall Cardi in Biscuit could also be an option as it would drape beautifully around your curves and add shape to your figure.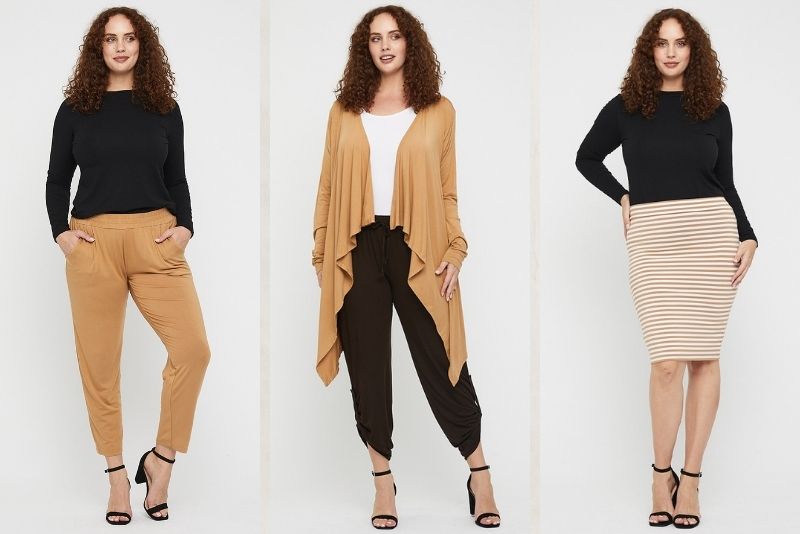 3. Soft Neutrals
These two soft and buttery tones melt together to create an opulence of calm and serenity. Embrace the creamy and delicate balance of these warm-toned hues. Pairing cream and biscuit together evokes the feeling of calmness and composure. Think early morning rises, walks on the beach and a quiet, clean home. It makes you feel like appreciating every moment, even the simple and small things.
Styling Notes:
This ultimate pair can seamlessly transition from daywear to workwear. Add an element of texture and shape by pairing any biscuit style with the Ribbed Cardigan in Cream. Seek sophistication with the Ribbed Taylor Top featuring a high neckline. No matter what style and pairing you choose, feel soft and elegant in comfort for all occasions.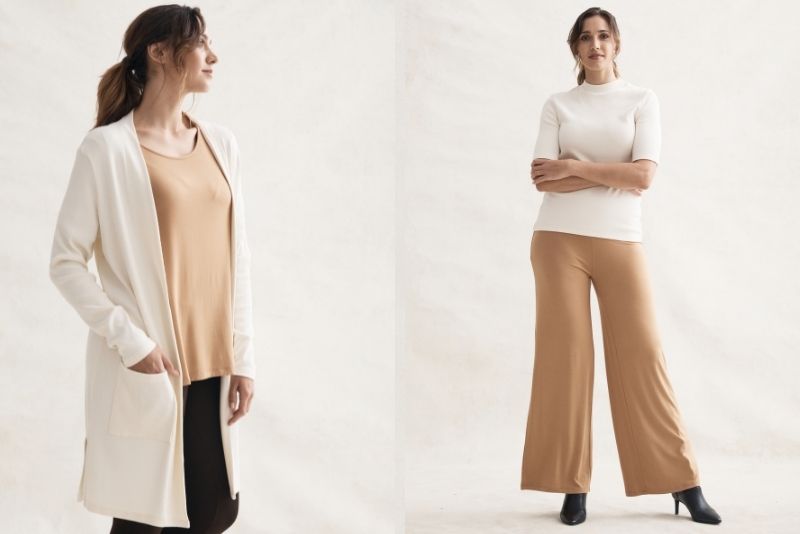 4. Warm Autumnal
Autumn styling is crucial when it comes to embracing the cooler months. The leaves are browning and change is in the air. This season may feel cold, but the colours of the seasons are strong and magnetic. This season invited warmth through your style and your taste. Think warm oranges and reds complimented by hot chocolates and knit sweaters. If Autumn is your vibe, or you feel confident in colour mixing, then biscuit and burnt brick is an essential pairing for you.
Styling Notes:
Mix and match your biscuit and burnt brick pieces. Invest in a versatile travel wrap, duster jacket or knit sweater crafted from bamboo, cashmere and wool. Cosy up in these comfortable styles, whether you are laying comfortably by the fireplace or wandering out and about on a cool Autumn day.