News
The Perfect Carry On Capsule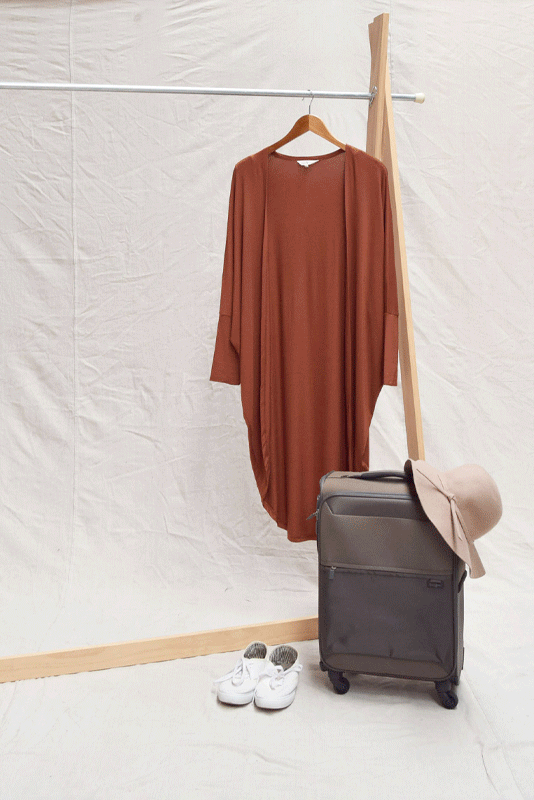 Whether it be a family weekend away, a girls trip or a solo adventure - the long weekend grants the perfect opportunity to explore local or interstate destinations for a little backyard escape. The Australian landscape has a lot to offer - and we want you to experience it all! If you are someone who tends to overpack for a small holiday, myself included, or are exploring the minimalist route - then this blog will help you choose those core, essentials pieces that will cover you for the entire weekend and then some! 
The practice of conscious consumerism is frequently accompanied by the term 'capsule', referring to those essential, versatile pieces that fill your wardrobe - allowing the ability to mix and match every piece with ease. Even if you aren't planning to go away, and want to inherit the 'minimalist' approach to living, testing a 3-day capsule collection may be good practice. 
Gone are the days of overflowed packed bags and concerns about what to wear. Being strategic with your packing will calm your mind and fear of reaching the weight limit on your next flight will be a thing of the past! This capsule carry-on is super lightweight, weighing in at just under 2kg. It also contains the perfect blend of pieces for a long-haul flight - giving you the ability to layer and lounge in soft, relaxed styles.
Here are 6 pieces that will cover you for your next weekend away;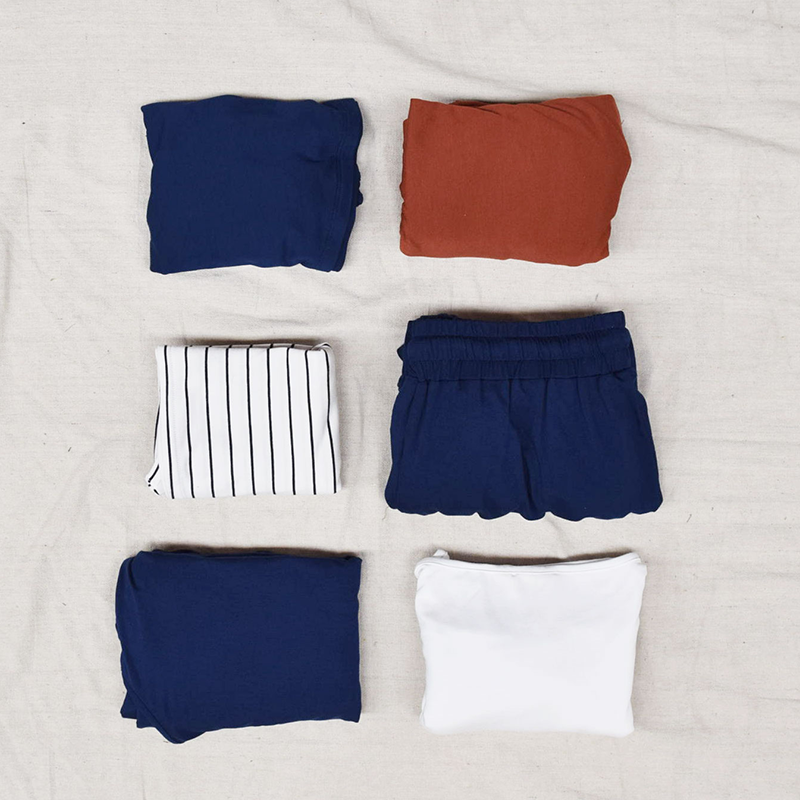 Day 1:
Designed to be an oversized fit, the Eadie Top is super comfortable and is not firm or clingy on the body. The stripe print adds a simple element of interest to an outfit - and its black and white colourway makes it incredibly versatile to mix and match with other pieces.. A short sleeve top like the Eadie will be your favourite go-to piece for that easy weekend look. Likewise, our Pocket Pants are our favourite casual pant for the plane ride or walk around town. It can easily be adjusted between a 7/8th length and a long, straight leg fit - a perfect versatile piece!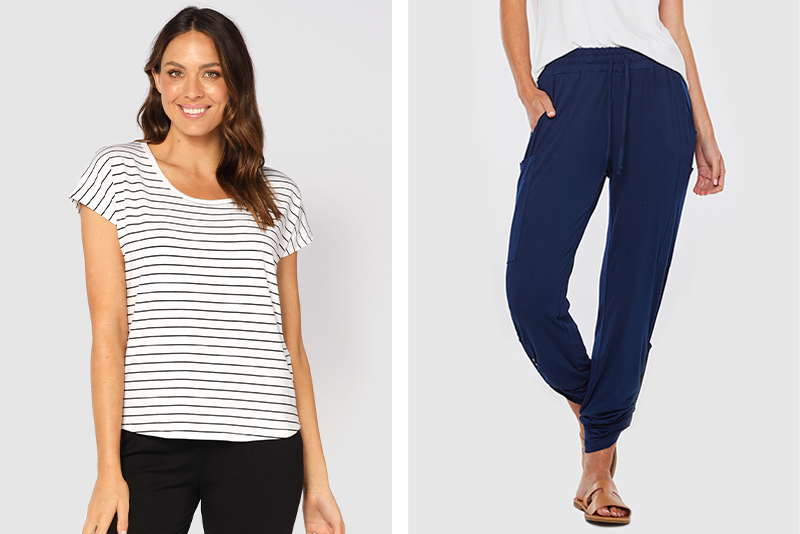 Day 2: 
Relaxed Singlet + Pocket Pants + Cocoon Cardi
Dressing head to toe in a singular colour is simple, refined and classic. The Relaxed Bamboo Singlet is floaty and feminine with a relaxed a-line shape. Pair with the navy Pocket Pants at 7/8th length for a walk along the beach, a coffee date or on a fun tourist adventure. Either keep this look simple by layering with black - or if you're feeling bold and brilliant - pair with the Cocoon Cardi in Paprika. These two tones exude warmth and sweet sophistication and create a beautiful autumn tone within your style.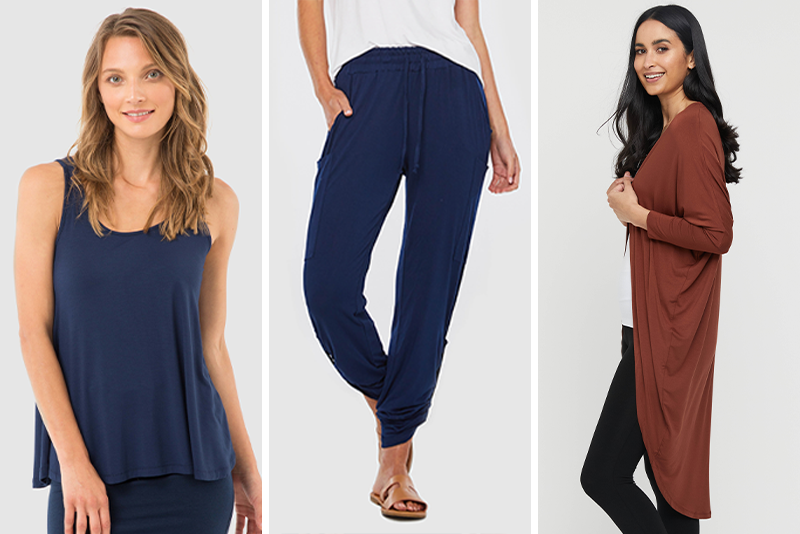 Night Day 2:
Sticking to one colour shade - in this case navy - is the easiest way to create that perfect capsule as you do not need to worry about intricate colour combinations. To know which colours will suit you best would be to understand your skins undertone. Learn all about finding your undertone here. The bamboo Adele Dress is an effortless style with a shell neckline and comfortable a-line shape. Pop it on with a simple pair of sandals and you're good to go. It is a handy option for travelling and can easily be worn out to dinner or casually over swimmers by the pool. Pair with the Cocoon Cardi for those wooler nights or if you would like some extra sun protection.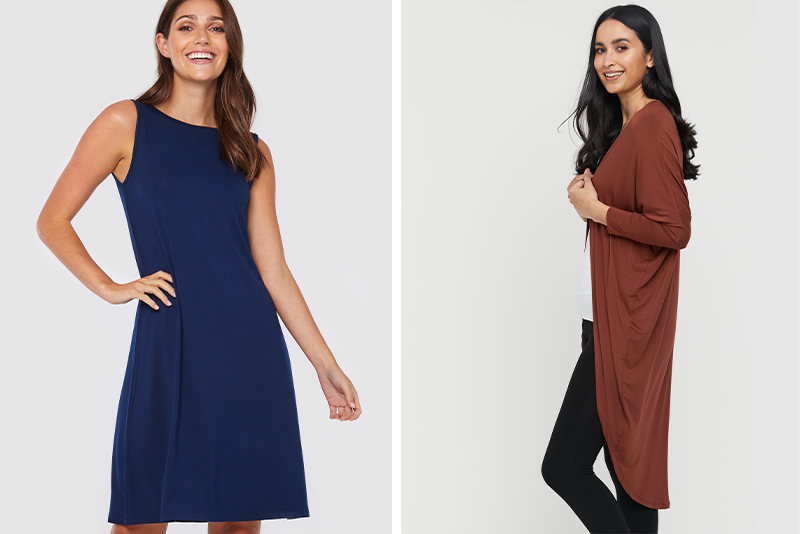 Day 3:
The Relax Boatneck is one of the styles that flatters all different shapes, sizes and heights. It's another versatile piece that you can dress up or down - or style in numerous ways. Tie it up at the bottom and wear it with a singlet underneath for colour contrasting. Its asymmetrical hemline creates an informal balance to your look. Its long fitted sleeves are perfect for cooler nights or extra sun protection. This style paired with the Pocket Pants is perfect for all occasions and adventures you may take on your trip away.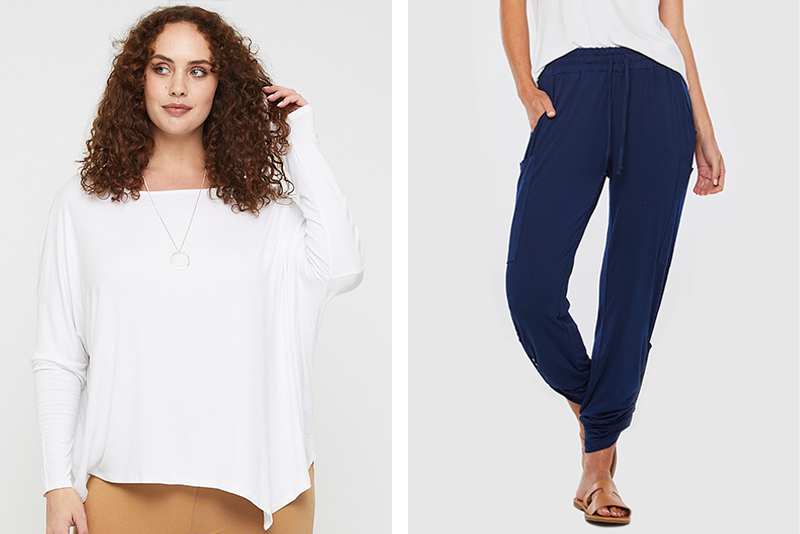 This effortless travel capsule is the perfect stepping stone to learning to mix and match your wardrobe for all occasions. It's layering ability allows for ultimate comfort and different styling options - perfect for either a long haul flight or quick trip away.
Once you learn what neutrals you feel most comfortable in, it is easy to play around with contrasting or monotone styling - giving you the ability to mix and match your wardrobe with ease. Choose styles like the Relaxed Boatneck and Pocket Pants that can be adaptable according to style, different adventures and weather changes.
We hope this capsule gives you plenty of packing ideas and inspires you to create the perfect capsule wardrobe for travel and beyond!
Shop The Capsule