News
3 Teachers on their favourite work pieces
Styling for a casual work environment can sometimes be tricky. You want to remain modest and polished, but have room for your creativity to shine. Work styling is the ultimate chance to show off your personality through your personal style. It is not usually required to dress in a matching
two piece suit with heels as you would with a Business Professional dress code. Especially if you work with younger children, you will find yourself often having to run around after them - or bending down to help someone in need. This means that you need pieces that are adaptable to
any and all situations. Your clothing needs to be breathable and moisture wicking to last you throughout the day. They also need to be slightly modest - with higher necklines and long, loose bottoms. Your pieces need to withstand lunch breaks and looking after children in the sun. Thankfully, bamboo is a quality piece of fabric that is perfect for a teacher constantly on the go. It is breathable and moisture wicking, and has UPF50+ sun protection! It is also incredibly soft and comfortable, and the added spandex to our Bamboo Body garments mean you can move about with ease!

When creating an outfit for a casual work environment, we suggest building your outfit starting with the basics. Having those high quality, basic pieces makes styling so much easier! It gives you the opportunity to layer and accessorise!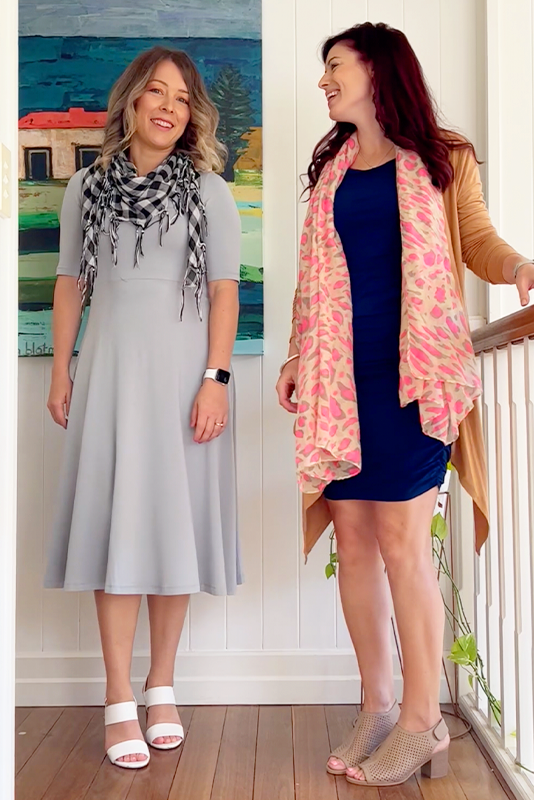 Left Image: Michelle (left) wears the Harmony Dress in Blue Haze, styled with a lightweight printed scarf and beige heels. Sherrie (right) wears the 3⁄4 Sleeve Ruched Dress, styled with a lightweight grey scarf and Waterfall Cardi. She pairs this with white sandals. Right Image - Sherrie (left) wears the Harmony Dress in Blue Haze, styled with a lightweight printed scarf and white sandals. Michelle (right) wears the 3⁄4 Sleeve Ruched Dress, styled with a pink spotted print scarf and a Waterfall Cardi. She pairs this with beige heels.

We wanted to reach out to real teachers to ask them what their essential work items. Here are their responses;

@_teacherpolly 1st Year Teacher

I definitely agree that my outfits are more casual than corporate. Comfort is really important when I'm teaching as it allows me to give the most to my students, like being mobile getting down in the ground with them, for example.

I would say my number one go-to is a simple black tee. Not super tight, loose fitting and crew necked. I think this is the perfect building block to a work outfit because it's versatile, simple, comfortable and professional. In summer I wear a tee with skirts or flowy pants, or under a dress with thinner straps that I wouldn't otherwise be able to wear at work. In winter it's nice to have a long sleeved version for the same purposes or for layering.
Teacher Polly Lookbook
@teachingwithmissmolly Reception Teacher/Religious Education Coordinator

My go-to essential work item is a blazer, I have so many! I love to pair my blazers with a tight crew cami and a high waisted pant. I wear straight leg and wide leg. I really like dressing up for work, but also know how important it is to be comfortable when teaching little people so I try and make sure my style is classy but also practical.

I also love long knit dresses, paired with a blazer/cardigan and coat.
Miss Molly Lookbook
@_Miss_williams_ 4th Year Teacher

Being Winter right now, I would say I'm loving styling my outfits with a basic tee, knit jumper, straight-leg pants and a cardigan/coat to finish off.

I love the look of a coat especially in the colder months and pairing it with some boots and accessories! The best part is you can take it off during the day if it gets warmer!

Being a teacher, I need comfortable clothing that I can move around in so I find this is the best combination for me.
Miss Williams Lookbook
The team at Bamboo Body have put together the ultimate lookbook for business casual work outfits, check it out here;