News
Styling Women's Sun Protection Clothing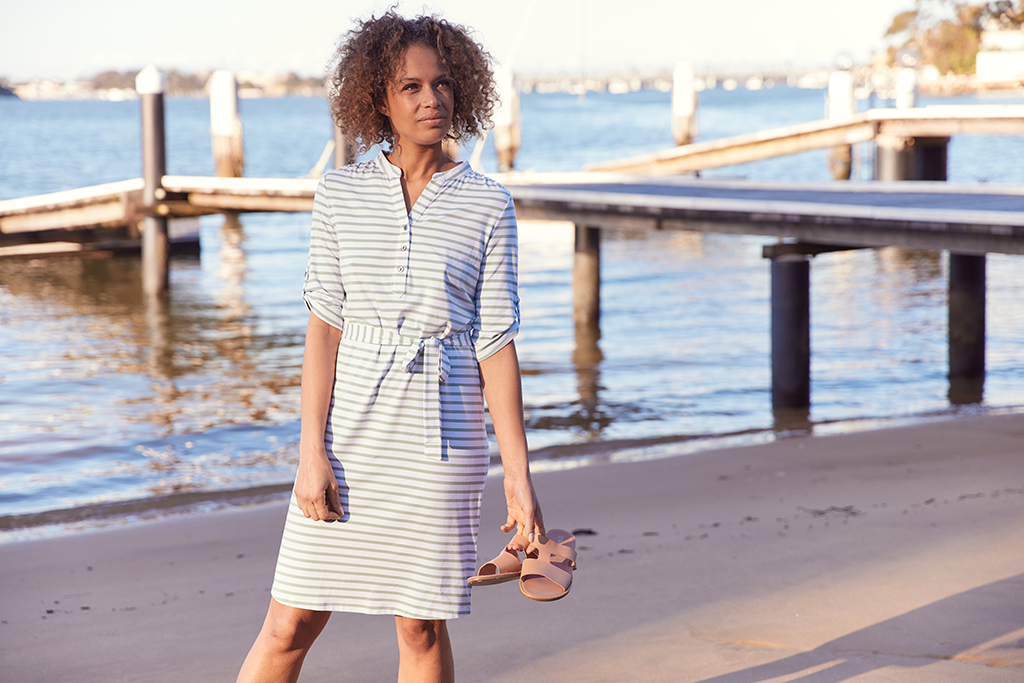 How To Be Sun Safe All Year Long
The Australian summer is all about barbecues, the outdoors and fun in the sun. With the rise of skin damage and skin cancer it is more important than ever to protect your skin against the sun's harmful rays, and one way to do this is through sun safe clothing.
Bamboo Body offers a wide range of women's sun protection clothing that provide certified UPF50+ protection against the harsh Australian sun. These sun safe clothing pieces are made from natural fibres including bamboo and organic cotton and are soft, breathable and stylish. Whilst UPF 50+ clothing has traditionally been utilitarian and not style-focussed, the Bamboo Body collection offers a wide range of women's sun protection clothing that will suit any occasion! 
Bamboo Body prioritises sun safe fashion as a core part of our brand because we understand the importance of staying sun safe in this Australian heat. Did you know that many people are getting sunburnt through their regular clothes? This leads to the fact that 2 in 3 people are diagnosed with skin cancer by the age of 70. Even when covering up, a white cotton t-shirt provides only moderate sun protection with a UPF of about 7. To put this in comparison, our Bamboo Body sun safe clothing has been awarded the rating of UPF 50+! This is equivalent to wearing SPF50+ sunscreen and blocks at least 98% of UV rays. Now that is sun safe fashion!
Sun Safe Clothing: What is UPF?
UPF stands for ultraviolet protection factor and is the rating given to clothing for its broad-spectrum protection against both UVA and UVB rays. UVB rays are responsible for producing sunburn. The UVA rays penetrate more deeply into the skin and play a greater role in premature skin aging changes including wrinkle formation.
Sun protective clothing acts as a barrier between you and the sun's rays, much like sunscreen. Australia is known for its sunny weather and outdoor lifestyle. But the Australian sun is harsh and and it is more important than ever to know how to be sun safe. As we age, our skin becomes thinner which gives us a greater risk of getting skin cancer and serious skin conditions. This type of ageing can be preventative with bamboo sun protective clothing, which is why we make it a priority make sure our fabrics are tested and certified for the maximum UPF 50+ sun protection rating.
All main fabrics in the Bamboo Body range have a UPF rating, with an exception to our Pyjama, Australian Made and Tracksuit range. Our BS (bamboo viscose and spandex) and BOC (bamboo, organic cotton, and spandex) fabrics have a UPF rating of 50+ while our woven collection has a UPF rating of 30. UPF 30 blocks 97% of UV radiation while UPF 50+ blocks 98%-100%. This makes bamboo sun protection clothing an optimal choice in the defense against harsh sun rays.
UPF clothing that is rated 50+ is equivalent to wearing SPF50+ sunscreen and blocks at least 98% of UV rays. 
As highly requested by our customers, the team at BB have curated seven stylish and sun safe fashion fits that you can enjoy the Australian sun in! To get maximum sun protection, we have made sure these outfits have either longer sleeves or higher necklines. We know what you're thinking - long sleeves in hot weather?! Our bamboo sun protection clothing products are essential for the warmer months. While achieving a UPF rating of 50+, these pieces are also lightweight and breathable. Studies show that bamboo sun protection clothing is more breathable than cotton and its moisture wicking properties help keep your body fresh and dry. Read more about the benefits of our UPF clothing here.
1. Sun Safe Casual Fridays
Sun Safe Casual Fridays
Step into bamboo sun protection clothing with this casual fit made for work, weekends and everything in between! Our priority for sun safe clothing is comfort, and the Pocket Pant and Sophie Top combo is just what you need for some fun in the sun. We picture picnics in the park, or a casual stroll along the beach. The beauty of the Pocket Pants is in the adjustable leg length - wear them full or 7/8 length depending on the occasion, weather and your height! It also means you can choose to cover up a bit more on a scorching summers day. The breathability of bamboo sun protection clothing gives pants in the summertime a whole new power.
Sophie Top in Ivory | Pocket Pant in Dark Olive



2. Everyday Go-To Sun Safe Fashion
Everyday Go-To Sun Safe Fashion
Sun safe fashion and learning how to be sun safe means forcusing on fabric - and on a hot summers day breathability is key. This casual chic look will be your everyday summer staple this season. Culottes are perfect for the summertime. They offer the elegance of a skirt and the confidence of pants, and allow you to move and flow throughout the day with ease. We love the Pia bamboo tee because like all our bamboo sun protection clothing pieces, it feels heavenly against the skin.

Pia Top in White | Culottes in Navy



3. Sporty Chic Sun Protection
Sporty Chic Sun Protection
We love the versatility of this sun safe fashion fit as it can be styled so many different ways! Dress in the ruched tank dress from morning till night by changing up the shoes and working in your accessories. Make the fit more casual and for the outdoors by layering a casual white tee of your choice. Sun safe clothing has never looked so chic!
Ruched Tank Dress in Black | Shorter Tee in White
4. Polished and Practical Sun Protection
Polished and Practical Sun Protection
Practice how to be sun safe through modest cuts! This look proves that sun safe fashion can be stylish. We love this glamorous fit as it is a modest style with its 3/4 sleeves and long skirt length. In this style you will feel practical yet polished. We think it is the perfect style for beginning your sun safe fashion journey!
Ada Boatneck Top in French Blue | Midi Skirt in Black

5. Lounging On The Deck
Lounging on the Deck
We love this sun safe fashion outfit as it embraces comfort and style while giving you the best protection possible against the Australian suns rays. We see this outfit styled for a long road trip in the car, or perhaps to lounge on the deck for a warm summers evening. Again, like all our bamboo sun protection clothing - this outfit is suitable for the warmer seasons for its breathability. This means you can wear long sleeve pieces as without feeling too hot!
Waterfall Cardi in Sky Blue | Shell Top in White | Soft Bamboo Leggings in Black

If luxury loungewear is what you're looking, you should read all about about finding your luxury loungewear style here.


6. Sun Safe Clothing on a Weekend Getaway
Sun Safe Clothing on a Weekend Getaway
We love this fit for its straight, streamline silhouette that elongates your body and makes you look ever so stylish and fresh. This style is incredibly polished and sophisticated, perfect for a daytime look at the markets or for a safari adventure. Choose which colour and length you like best in the Luxe Wide Leg Pants.
Rachelle Top in Black | Luxe Wide Leg Pant, Dark Olive

If you are looking for sun safe clothing for the ultimate weekend away, make sure to check out The Ultimate Travel Packing List blog here.

7. Adventure Time with Stylish Sun Protection
Adventure Time with Stylish Sun Protection
Let's go on an adventure! For those who prefer modesty or just need that extra bit of sun protection in the sweltering heat, this sun safe fashion look is ideal for you. The shell tops high neckline is the perfect sun safe fashion piece covering your chest. The everyday bamboo short is a bermuda style. It is semi-casual and falls a few inches above the knee. Styling sun protection clothing has never looked so good.
Shell Top in Navy | Everyday Short in Bone


Our chosen BB styles are designed to fit into your everyday wardrobe and can be layered, mixed and matched. See below our favourite UPF styles. Shop our UPF capsule here.

Want to learn more about UPF clothing? Read our FAQ blog here