News
Pockets: fashion or function?
Why are pockets our most requested accessory?
At Bamboo Body, we are constantly listening to our customers to understand their wants and needs. Upon nearly every style we are asked by our female customers; "Does it have pockets?" Although we already have an array of styles with pockets that are fashionable, comfortable and practical, sometimes we believe that a style can be all these things without them.
Intrigued by this, we headed to our Instagram to ask our customers why they love pockets so much. According to our Instagram poll, 83% of our respondents also voted that they do take pockets into consideration when purchasing an outfit.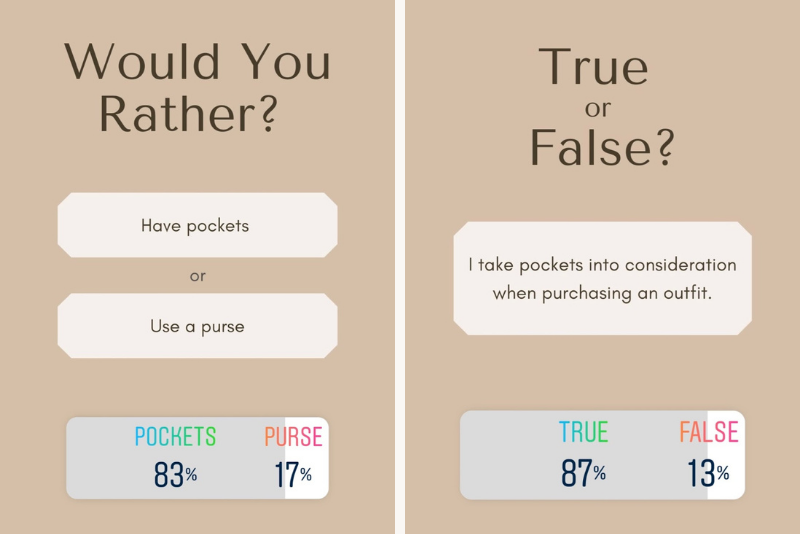 The vote for pockets was backed up by many responses in our questionnaire, with one person noting that with the functionality of pockets there is "no need to carry a bag, phone etc, free hands to chase kids." Another advocated for pockets by saying "because I don't always like to hold my car keys or phone while out and about."
Does this mean we have it all wrong? Do all styles need pockets? Where does our obsession with pockets come from and what is it about pockets that makes them such a necessity? The team at Bamboo Body did some research into the history of pockets to find the answers. Is it fashion, function or is there a deeper meaning behind it?
Here is a little history lesson.
Pockets have been around for about 500 years. However, this was a luxury only men were entitled to. The idea to conceal your belongings from others became popular as cities grew in size. Towards the mid 17th century European and American men regularly had sewn-in pockets within their garments. However, for women whose everyday wear consisted of layers of skirt under a petticoat, a 'pocket' consisted of two pouches tied at the waist like an apron. These pouches were quite large yet practical for a woman travelling or appearing in formal situations. Pockets and trousers were a luxury related to power and agency - something women were not able to have at the time. 
By the 18th century, neoclassical style was in, which meant for women dresses were slimmer. Pouches were more of an ornamental accessory and ultimately faded out over time as the style became more impractical to wear. As silhouettes changed and became smaller, this brought the introduction of Reticules - a type of small purse carried by hand. Funnily enough, Reticules were once seen as masculine as men were usually the type to carry their belongings outside of their garments (in addition to the luxury of pockets).
As the war movement formed in the 1900s however, trousers became a symbol for independent women, especially those who were fighting for the right for functionality that already existed in menswear. The trousers worn by women were actually menswear tailored down to size. It wasn't until pioneer designers such as Coco Chanel and Paul Poiret designed trousers for women that the movement towards women's pants came into effect.
"I make fashion that women can live in, breathe in, feel comfortable and look younger in" - Coco Chanel.
Still, it wasn't till the 1970s that trousers became a norm for men and women alike. In some places, women in trousers were banned until 1970 in places such as Harrods in London and some international luxury hotels. In 1966, Yves Saint Laurent created the first trouser suit for women. By the 1980s, Karl Lagerfield had turned women's trousers into the new 'It piece'.
But what did this mean for pockets? Well, if trousers were to be accepted they needed to be 'feminised', and that meant slipping down the fit and removing the bulkiness - that is, the size of the pockets. "Fake" or "sewn-in" pockets became a form of accessory rather than practicality, leaving women with nowhere to place out basic essentials than in our own hands. It's as if the industry focuses solely on aesthetics, with our garments serving little to no utilitarian purpose. Some have argued that the lack of pockets in the 20th century was created to accommodate the rise of handbags.
With all this in mind, we can definitely look at the controversy of pockets as being a feminist issue. The conception of pockets for women was almost seen as an act of rebellion and a fight for equality. In 1954 Christian Dior claimed, "men have pockets to keep things in, women for decoration."
In the present world, a lack of pockets in womenswear stays an issue. A large percentage of responses from our previously mentioned questionnaire focused on the importance of pockets for work with one respondent saying "I don't own anything anymore without a pocket as in my job pockets are essential." So if pockets are so essential for women, why are designers not addressing the important issue, and should this mean that ALL styles need pockets no matter the occasion?
There is nothing wrong with pieces designed for fashion over function. Sometimes pockets just don't fit the style. However, we need to acknowledge that the topic for women and pockets is rooted in a sexist history and functionality needs to at the very least be an option. Are we asking for pockets, or are we also asking for equality?
The team at Bamboo Body hear you and all your feedback and we look forward to creating many more inclusive styles in the near future.
In the meantime, tell us why you love pockets in the comments below!