News
Essential Work Pieces For Your 9-5
Whether you work at home, in a casual environment or a corporate office - it is incredibly important for you to look good and feel good during your 9-5. Self-confidence comes in many different ways, but dressing for success can no doubt be one of them. This does not mean you need to suit up head to toe everyday. Your ultimate goal in dressing is to feel comfortable, confident and most importantly - yourself! We want you to feel like your best self when you step into your work space. That is why we want to talk about 3 essential work pieces that you can adapt to suit your own environment. Think of these pieces as a solid foundation to your outfit. Being an essential basics brand, we value the importance of owning those staple styles that work with any piece in your wardrobe. These styles do just that! Whether you are teaching children all day or running around from meeting to meeting, these pieces can be mixed and matched to suit whatever life throws at you!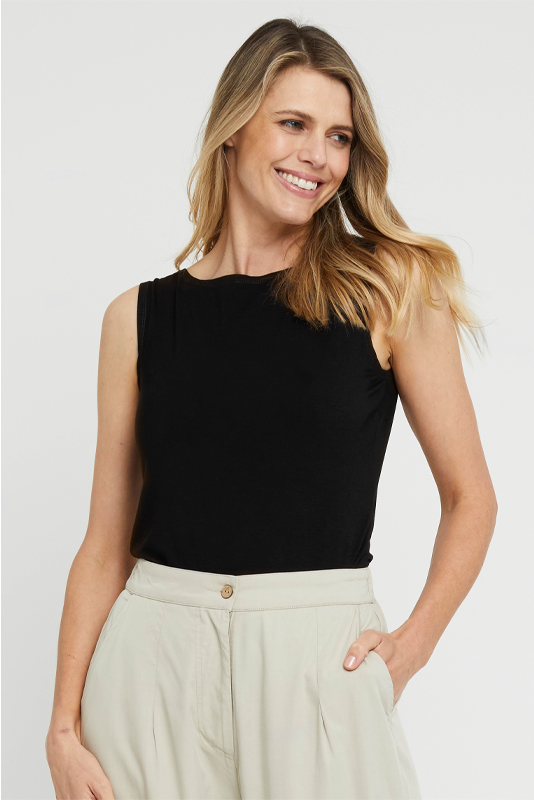 The Shell Top is an ultimate favourite with the team at BBHQ! It is the perfect base layer for any casual or corporate style! With the high neckline and wide straps, this sleeveless style can be paired back with jeans and a denim jacket, or dressed up with a pencil skirt or dress trousers. It's incredibly lightweight and fitted, meaning you can wear it under corporate pieces such as a suit. The best part about bamboo clothing is that it has incredible moisture wicking properties, meaning you can wear this piece all day and still feel fresh by the end! We personally love this piece because it is so effortlessly chic - it is the perfect foundation piece to build your work fit from!
Style Tips:
Casual: Pair this top back with a pair of jeans and sneakers for an everyday go-to style. Alternatively, opt for a midi skirt or woven shorts in the warmer seasons for a summer look.
Business Casual: Style the Shell Top underneath a casual blazer and a soft, flowy trouser and heels. If skirts are more your style, pair this top with a pencil or maxi skirt and sandals.
Business Professional: Wear the Shell top as a lightweight layer underneath a suit during the warmer periods. You could also pair this piece with some form fitting trousers and a blazer or lightweight coat for running from meeting to meeting.
Check out our Shell Top Pinterest Board Here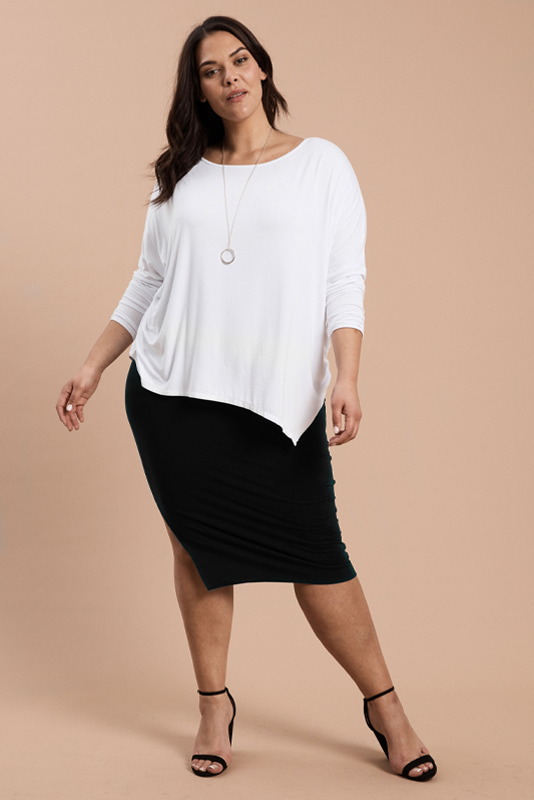 A pencil skirt is a must-have style suitable for any work environment. The Nina Side Split Skirt is double layered for extra support and maximum comfort. The flat elasticated waistband and bamboo fabric will keep you cool and comfortable throughout the whole day. We personally love this piece because of the comfort factor. We are big believers in the importance of comfortability no matter where you are heading in your day. This pencil skirt can be dressed up for a professional environment with heels or dressed down in ballet flats and a basic white t-shirt for a more casual look.
Styling Tips:
Casual: Pair the Nina with a fun printed tee and a denim oversized jacket or cardigan. In the cooler periods pair with a knit top and singlet for layering. This skirt looks great dressed down with sneakers.
Business Casual: Dress up this look with an oversized knitted sweater and loafers or ankle boots. A coat can elevate a look - dress with a matching casual tee and pair with a long coat like a trench or peacoat.
Business Professional: Pair this skirt with a collared shirt and blazer. Work with colour here! Monochrome looks always radiate professionalism, whether that be matching the skirt to the blazer or to the shirt.
Check out our Nina Skirt Pinterest Board Here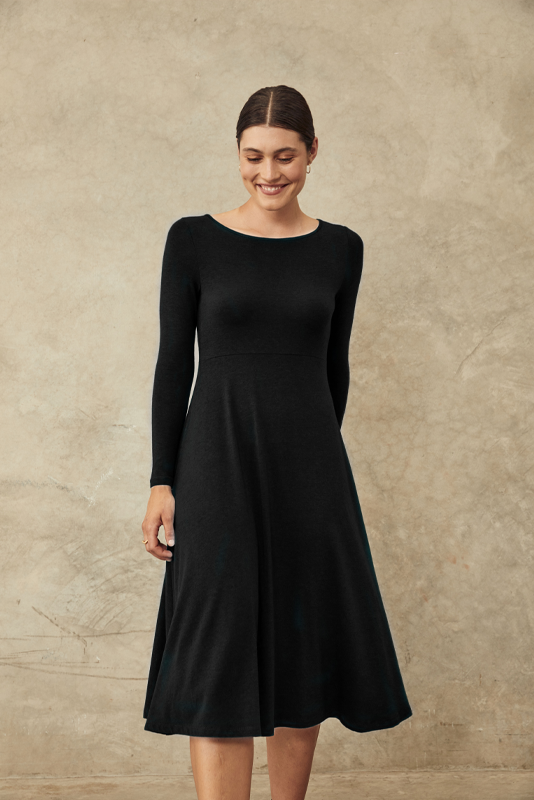 Everyone needs a staple black dress in their wardrobe. The Olivia Dress has a fitted bodice and full skirt, which falls from the waist and skimming elegantly over the hips for a flattering effect. We chose the Olivia because of how adaptable it is for any occasion. This dress is a beautiful modest canvas that can be manipulated to suit all work environments, whether that be casual or corporate.
Styling Tips:
Casual: This style looks elegant on its own, but adding a pair of soft leggings and sneakers makes it more adaptable for the cooler seasons. Play around with your favourite accessories and opt for an everyday cardi or denim jacket if you're feeling chilly.
Business Casual: Swap the sneakers for a pair of heeled boots to elevate your look. Add a fitted blazer and purse and statement gold or silver jewellery.
Business Professional: It's all in the shoes! Pair this dress with a stiletto heel and a tailored blazer. Add a pop of colour to your shoe or blazer to create contrast within your outfit.
Check Out Our Olivia Dress Pinterest Board Here
Below are some of our favourite work looks our team put together from our Autumn + Winter Collection. If you are looking for styling advice or have any questions, don't be afraid to reach out to us through our new Facebook Group: Bamboo Body Community Styling - or DM us on Instagram @BambooBodyAU.